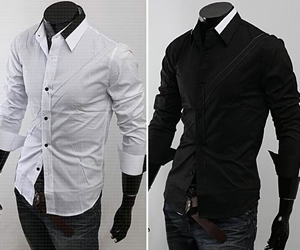 With the rapid change in men's fashion, many of the fashion pieces have been revived and contrast-collar shirts are one of them. Once thought as the key pieces in the fashion portfolios of 80s corporate moguls, the men's fashion of contrast-collar shirts have made their way back in the fashion industry.
However, after a gap of two decades, the contrast-collar shirts are achieving the rise with a bit different look and style. The main difference in the style of contrast-collar shirts is mainly the approach of wearing it.
Rather than associating these men's fashion trends just to an uptight corporate demeanor, this time the contrast-collar shirts are back with less rigid, informal and more relaxed look. Due to this huge change in fashion accent, the contrast-collar shirts are gaining huge popularity among men's circle. Once only used for savvy and sophisticated options, the stylish contrast-collar shirts are now a must-have in the wardrobe of every guy's casual collection. Following are some of the casual ways to spiff up your look with chic contrast-collar shirts.
With a blazer
Though the contrast-collar shirts maintain its formal appearance maintaining some decorum of up-class elegance, it can be well-complimented with a blazer for less formal business occasions. The different accent of shirt and collar of the contrast-collar shirts with a deep shade blazer will add some unexpected texture and pop to the traditional shirt-and-blazer semblance.
With a cardigan
You can revive the charm of 80s with a touch of today by combining the magic of contrast-collar shirts with alluring cardigans. Using a less formal cardigan with up-tempo contrast-collar shirts allows you to pull off surprisingly stylish look with preppy appeal.
With denim
Nothing feels more comfortable and casual than pairing up contrast-collar shirts with denim. The revival of contrast-collar shirts in men's fashion have given a chance to jeans' lovers to give a dramatic and stylish touch to their look by pairing up contrast-collar shirts with a relaxed pair of jeans.
With a jacket
The reinvention of contrast-collar shirts has made their way in the wardrobe as an everyday shirt collection. You can adopt the new laid-back style of these shirts by rocking it under a sophisticated jacket, which truly portraits a combination of style and grace.