Kim Kardashian was showing off a very large baby bump when she went with her family to a matinee performance of The Phantom Of The Opera at the Pantages Theater in Hollywood on Sunday.
[contentblock id=1 img=adsense.png]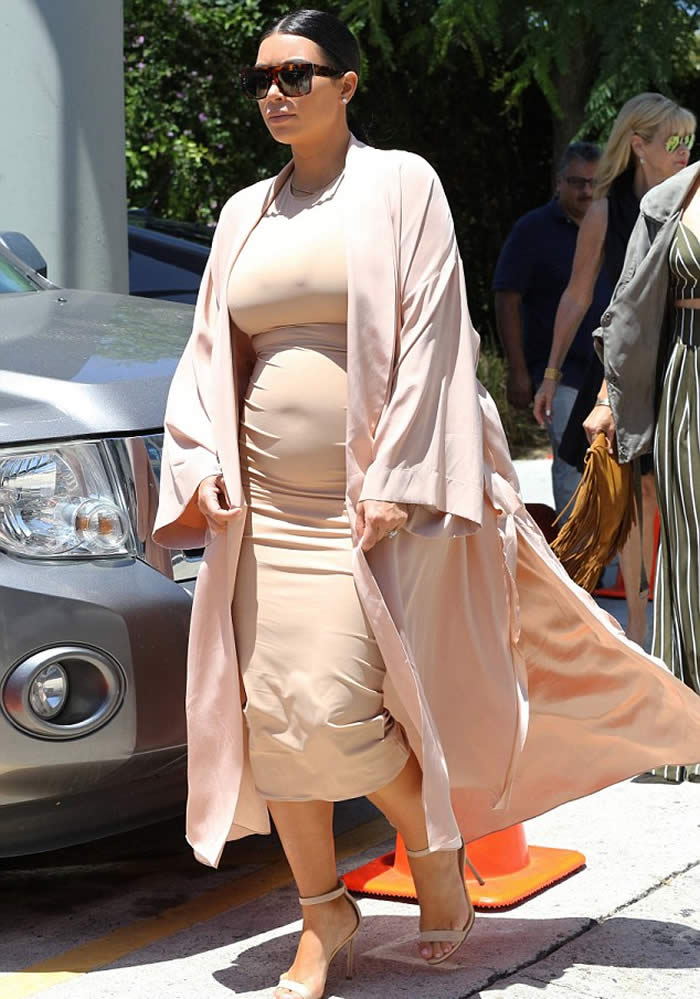 The 34-year-old pregnant Keeping Up With The Kardashians star also made sure to accentuate her round belly by wearing a skintight, nude dress. And, Mrs Kanye West, who is due in December with a boy, didn't forget to wear her favorite four inch heels that surely could not have been too comfortable as she walked through a parking lot with Kourtney, Kendall, Kylie and Kris. 
[contentblock id=2 img=adsense.png]
The E! babe also was in full-on glam mode as she had her black locks parted in the middle and slicked back into a ponytail.
Kourtney looked like an entirely new person as she put her cleavage on display in a plunging bra top with matching wide-legged trousers. Kourtney had on a camo jacket, though it did little to cover up her chest, and held onto a fringed suede purse. Oversized sunglasses gave her a glamor look. 
[contentblock id=3 img=gcb.png]
And instead of smiling, the E! queen gave her best steel gaze to make sure everyone knew she was doing just fine just weeks after Disick left her for an ex while on a reckless party binge. She held hands with Mason, aged six. Not present was ex partner Scott Disick who has been on a party bender.