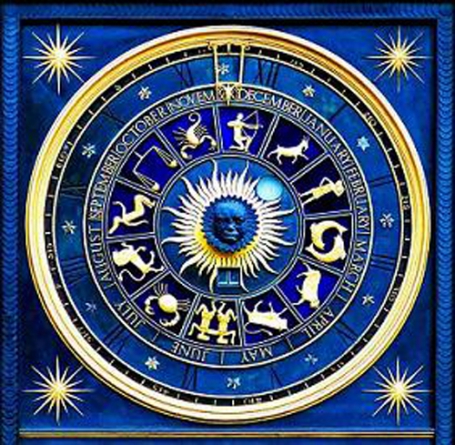 Business Horoscopes Jan. 12 – Jan. 18, 2015
Your Business Horoscope looks at your Business potential for the week ahead. Wondering whether a new business opportunity is going to come your way? How are your job prospects shaping up? Select your Sun Sign from the list below to view your Horoscope.
Aries Business Horoscope


The week isn't yet 2 weeks old when you move into the new week, but already so much water has passed under the bridge that the dynamics that greeted you on New Year's Day are not the dynamics that will greet you when you move into the new week. At the same time that Ceres' first full week in your Business sector in 4 years is giving you a chance to take a deeper look at your professional needs and priorities and over the coming months to redefine your definition of success, the Moon's visit to your work sector over the weekend has left you with plenty of food for thought. While Jupiter won't return to your work sector until midyear, the Moon's first visit for the year has left you with clues that even this far out provide an opportunity to start lining up at the right doors before they open.
Taurus Business Horoscope


There is a changing of the guard on the professional front this week, along with a demonstration of just how much support you have from the professional gods. It's Mars' departure from your Business sector on Monday that brings a mission to fuel your professional passions and fighting spirit to an end, one that began in early December and allowed for a seamless transition from one professional year to the next. However, it was Venus and Mercury's return last week that ensured there was no chance of dropping the ball or losing your motivation, with the Moon's return to your work sector on Monday also ensuring you've got your finger on the pulse and ear to the ground at the time. This does take away all of the urgency and brings you to a more measured and strategic phase.
Gemini Business Horoscope


Until now there has been no real distinction between your 2014 and 2015 professional years, with one looking pretty much like the other. However that all changes with Mars' return to your Business sector on Monday, doing in one fell swoop what you never managed to accomplish during the whole of 2014, which is to fuel your professional passions and fighting spirit and to reignite old professional dreams and aspirations. While Mars won't align with Neptune until early next week, his first visit in 2 years is set to unleash motivations and professional dreams that were buttoned down for much of 2014, giving this new professional year a very different feel, while at the same time kicking things into high gear. The hard work of the last few years is opening up for new professional opportunities.
Cancer Business Horoscope


So far 2015 is doing a very good job at disguising itself as a rollover from last year, with nothing yet to just how huge, game changing and potentially lucrative it is set to become and more deceptively, how busy it's set to become. You'll get your first clues when the Moon returns to your Business sector over the weekend, for both its first visit for the year and since Saturn returned on Christmas Eve. At this stage and especially with Mars returning to an adventurous part of your chart on Monday, the professional gods are being patient, making it important to have your finger on the pulse and ear to the ground over the weekend. Things won't start to move until next month, when both Venus and Mars return to your Business sector, with a need to work smarter and pace yourself, while you can.
Leo Business Horoscope


There is a curious mix of energies in play as the Sun spends his last full week in your work sector and Ceres her first, coming together to take a different but complimentary look at your work options, choices and priorities moving forward. When Venus and Mercury left last week they left you with heart and mind on the same page, your head in the game and some clear intentions for the coming year, but a week on and you're already reconsidering your options. While the Sun is throwing the solar spotlight on your work situation, matters and options, his focus is from the point of view of where things stand now, on 'what is' and looking as objectively at things as possible. Ceres is in week one of a 26 week mission to redefine your priorities, with particular attention to job satisfaction.
Virgo Business Horoscope


As you move into the new week it becomes clear just how auspicious Venus and Mercury's return to your work sector last week was and the time that they got to spend with Mars, warrior planet of the cosmos. For as Mars leaves your work sector on Monday, not to return until 2016 the drives, passions, fighting and competitive spirit he's been fuelling since early December are in safe hands, with Venus and Mercury not only staying on to help follow through, but with heart and mind on the same page you're able to start walking the talk. Mars' departure will take away any urgency and with Mercury already slowing down ahead of his retrograde turn next week there's even a need to pull back. While you'll need to keep your work hat on, this week is more about following your heart and working smarter.
Libra Business Horoscope


While last week's Full Moon in your Business sector gave your new professional year a push start, once the Moon moved on there was nothing to sustain the momentum, leaving you with a huge amount of professional insight but still letting you stay in holiday mode or to hold back. That all changes this week, with Mars' return to your work sector on Monday getting your new professional year on the road in a way that there is no going back from. It's been nearly 2 years since Mars last moved through your work sector in early 2013, with Monday the start of not only the busiest weeks of 2015 but in 2 years. Between Mars' return on Monday and Mercury's eventual departure on the 31st March lie the most important and busiest weeks for work matters, with a need to pace yourself from the get go.
Scorpio Business Horoscope


2015 is doing a good job of disguising just what a huge professional year you've moved into and conditions this week will further cloud the issue. At this point a whole triad of powerful forces in your income, work and Business sectors are biding their time and almost seem to be condoning holding onto the holiday spirit for as long as possible. What you have is a chance to find a balance between work and play while you can, but also to embrace your creative passions. With lucky Jupiter in retrograde motion in your Business sector until April and Venus and Mars not returning to your work sector until next month, you have a chance to test the waters and explore your options. This is such a huge year for income, work and Business matters and taking the time to get your bearings is a wise move.
Sagittarius Business Horoscope


Moving into the new week with the Moon just wrapping up a monthly visit to your Business sector will always be an advantage, but especially so early in this new professional year and at the start of an important week for income matters. As well as leaving you with your professional instincts sharp and the valuable clues, hunches and insights gained over the weekend, the Moon will leave you with a sense of confidence that at this point might seem more like wishful thinking. The Moon's first visit to your Business sector for the year wouldn't be doing its job if it didn't leave you with hints of what is to come and while a huge professional year won't begin until midyear, it will define the year itself. This leaves you with an intuitive read on the short and long term conditions.
Capricorn Business Horoscope


While things are fairly quiet as you move into your new professional year and not a lot has changed since 2014 ended, in this instance that's a good thing, considering where things stood at this time last year. A year ago you were not nearly 2 months into Mars' epic and challenging 8 month visit to your Business sector and were already facing the first of many challenges you'd eventually face, challenges that only really ran their course last August. Yet with so much already faced, so much experienced gained and with the North Node keeping a natural current in play, slow, steady and uneventful is exactly what you want and need. The Moon's return to your Business sector on Monday will both sharpen your professional instincts and give you a chance to get your bearings.
Aquarius Business Horoscope


Following on from last week's Full Moon in your work sector, things may seem quieter this week but there is a twist that shifts the focus away from professional and onto money matters. It's Mars' return to your income sector on Monday that not only kicks off the most lucrative months of 2015, but a determination to smash through any glass ceilings in your way and having already invested more than enough professionally you're ready to start reaping the rewards. You'll have a chance to get your professional bearings when the Moon returns to your Business sector midweek. Where last week's Full Moon in your work sector gave your new working year its push start, this week there's a chance to tap into the professional experience of the past as it becomes a lot more about the money.
Pisces Business Horoscope


Ceres' departure from your Business sector last Friday brought you to an important point in this new professional year, one where it's no longer about establishing your professional priorities, with the job of redefining your definition of success, which had been under review since late October, finally complete. While this will continue to evolve, this brings you to a point where Saturn is ready to do what he came here for, which is to push you professionally in a way you haven't been since his last visit 27 years ago. Here for the next 3 years this is all about a slow and steady approach to taking your power back and getting a sense of what's possible. Yet with income and work matters still developing the professional gods favour a slow and steady start, pacing yourself for the long haul.