While the market reports say that the ultra rich are cutting back on luxury spendings and are waiting for signs of a sustained recovery, there is no dearth of exclusive products designed with the one percent in mind. And for the audiophiles who simply want the best the audio world has to offer, a look at the Hart Audio's D&W Aural Pleasure Loudspeaker range could lead to the "Aha" moment. Inspired by the large bell of Big Ben, the special edition versions of D&W Aural Pleasure loudspeakers are cast in bronze, silver and 18ct gold for better amplification.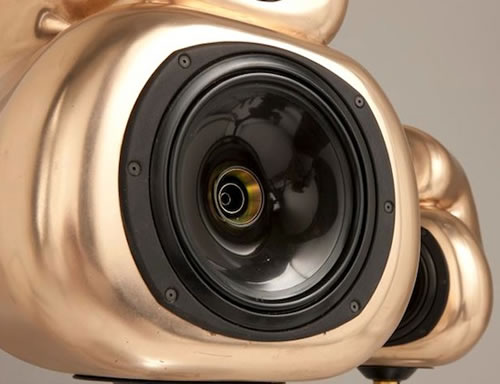 The curvaceous design is coupled with ancient traditions of bell-founding acoustic technology for an ultimate audio experience. Each cabinet alone weighs 50 kilos besides the driver units and is finished by hand. The castings are made by a British firm called "Basingstoke" that specializes in casting fine art sculptures to achieve its perfect silhouette. The D&W Loudspeaker feature 3 speaker drive units, bespoke height adjustable chrome stands bolted to the bottom of the speaker. The pair boasts sensitivity range of 97db [email protected], impedance 5 Ohms and a frequency range 47Hz- 37Khz (+-4db & 39Hz-47Khz +- 10db). The speakers will deliver the best output when placed in the corners of the room.
D&W Aural Pleasure cast in Phosphor Bronze are available in a total of 99 pairs, 5 pairs in Sterling Silver and only one pair is available in 18ct Gold. So for the wealthy music lovers for whom exclusivity outweighs everything else, Hart Audio's aural pleasure will set you back $4,698,590 approx. (£3,000,000). And the Bronze and Silver editions will cost £40,000 and £200,000 respectively.
Also check out the world's most luxurious speakers, including the $1 Million Grand Enigma speakers by Netherlands-based Kharma and the Gold Edition speakers by Ascendo. – Bornrich