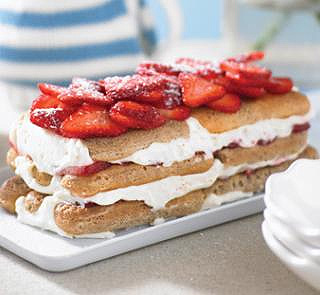 This variation on the Classic Tiramisu recipe replaces the flavor of coffee with strawberry for a delicious and colorful effect.
Ingredients:
220g extra light cream cheese
3 x 125g tubs 99% fat-free vanilla creme fromage frais
3/4 cup strong black coffee
2 tablespoons drinking chocolate powder
250g packet sponge finger biscuits
250g punnet strawberries, hulled, sliced
250g punnet strawberries, extra
2 teaspoons icing sugar, to serve
Method:
Step 1 Line a 7cm deep, 20cm x 10cm loaf tin with baking paper. Combine cream cheese and fromage frais. Set aside. In a shallow bowl, combine coffee and chocolate powder.
Step 2 Dip each biscuit into coffee mixture. Arrange 6 biscuits on base of tin, trimming if necessary. Spoon one-third of cream mixture over biscuits. Top with half of the strawberry. Continue to layer biscuits, cream and remaining strawberry, ending with cream mixture. Cover and chill for 3 hours or overnight.
Step 3 Invert loaf onto a serving platter. Top with hulled and sliced punnet of strawberries. Sprinkle with icing sugar. – Healthyfoodguide