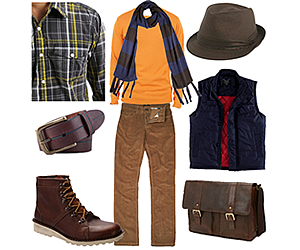 It is the misconception by many people that fashion is all about our outfits but fashion is how you carry with your whole personality. It includes all the accessories you carry with yourself including your mobile, your business file, your bag and whatever you use in your daily work. If these accessories are going great with your personality and looking friendly to you, then these all collectively make your style, your own specific style. So, one should be very careful while using any kind of accessory in your life because it depicts your personality.
Men accessories does not means dozen of jewelries for them but the use of chains and further these accessories do not provide you a decent look at all. Proper use of men's accessories which is going to blend with their outfits makes their look more smart and handsome. It does not matter whether you are old or young and single or married. Any style suits you are going to be your style.
Essential style accessories includes Neck ties which should be a part of men's wardrobe because ties give you a formal look and can be used both in formal and semi formal gatherings. All the styles of ties including bow ties and long ties provide you a formal and decent look for the formal meetings. For the casual and informal gathering during this season you can carry branded mufflers and scarves, a range of men's scarves and mufflers are in market which provides you a sexy look.
Use of the belts is the necessity for the men as they are important for holding up the pants but on the other hands it is a stylish accessory for men. Different styles, materials and colors of belts have made this necessity a fashion. With the variations in buckle style and colors of the belts, you can change your style. But the preferable stuff for belt is leather and preferable colors are black and brown all over the world.
We can include wrist watches as all time favorite accessories for men. It not only shows your aesthetic sense but also the symbol of your punctuality as well as makes the personality more attractive. But wearing an elegant watch during the sports in casual sports kit should be avoided; it does not give you a sensible look.
Different types of men's bag have been designing these days to cope with different requirements of men belongs to different working fields. Dashing hand bags are in mainly used by men of different working fields especially by businessmen, elegant files for office paper can also consider as style accessories for men. Wallets are the necessity as well as the stylish accessory for men; mostly wallets of leather material in black and brown are used by men. Elegant personality must have matched ties as well as the handkerchief. If you pay attention to details, you can use some stylish cufflinks, and you can also purchase some stylish ring, chains or bracelets (as many designers are working for the accessories exclusively for men).
Adopt a fashion which suits your personality but avoid adopting all styles blindly without considering that which is going to your personality and which is not. Be fashionable in your own style and your personality will rock..