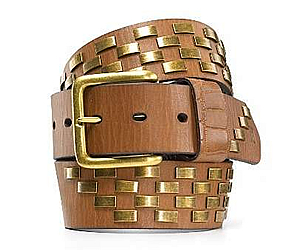 Every man should have the sense of all the latest trends and styles; every man needs to be aware of everything. It is important for men to be fashionable because they have limited styles and items to experiments with, so rather than being innovative they can simply have a good know-how of how to carry the trends. The belt fashion would be the one trend that men would want to know, because with the revolution in trends and fashion, men cannot forget the belts since it is one accessory they have to highlight when they are all dressed up.
Some the belt fashion that will force the men to feel that these belts are a must have accessory for the fall 2011-12, when it comes to accessories for men, camel brown leather belt will always be the favourite accessory, may it be a classy suit look or a casual look.
When the belts fashion has to be followed all you can experiment is with the belts buckle, either you show of the brand by buying branded belt with an exquisite buckle that simply spell class. The classic high fashion from the brand Gucci has come with classy gold buckles in the belts which simply say that men should now start experimenting with the accessory around their waists. Even the suspenders are a part of street fashion this fall 2011-12. High street fashion demands uniqueness and by adding a nice chunky belt to your outfit you can simply make your look for the fall.
The men have to make sure that while they choose which belt to wear with a formal suit they should always look into some details so that they look amazing with the belt. The belt should always match the color of their shoes, make sure the texture of your belt and shoes are almost the same and the most important tip for choosing a belt for formal wear is to buy the formal shoes and belts together to make sure they look class when worn with a formal suit.