The Duchess of Cambridge has revealed how much she loves cooking curry – but the Duke complained that the dishes were too hot for him.
The couple tried their hand at making chapatis with a Sikh community group in Edinburgh on Monday – with mixed results – before helping box up curry and rice for delivery to vulnerable families.
"I love curry… not too spicy," the Duke said.
When his wife was asked whether she made curry at home, she replied: "Yes, I love it." The Duke laughed and said: "She likes a bit of spice. I'm not too good with spice."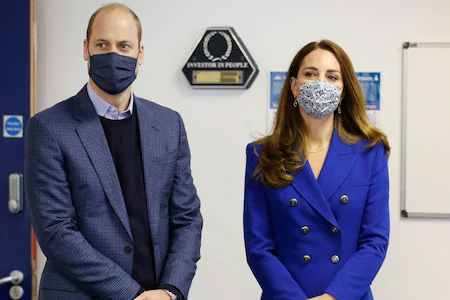 The Duchess joined her husband in Scotland for the second half of a week of engagements that has been described as a charm offensive as the royals help "shore up the Union".
The visits, which will include Orkney on Tuesday and the University of St Andrews, where they met 20 years ago, on Wednesday, are based around the Duke's role as Lord High Commissioner, the Queen's representative at the General Assembly of the Church of Scotland.
As the couple joined the Sikh Sanjog community group in the cafe kitchen at the Palace of Holyroodhouse, they were shown how to prepare the meals distributed to families across the city each week.
Sikh Sanjog was founded by Trishna Singh, 67, in 1989 to bring together and support women from the Sikh community and help them integrate into wider Scottish society.
On arrival, the Cambridges donned aprons and got to work, each given flour and water mixture to turn into a chapati.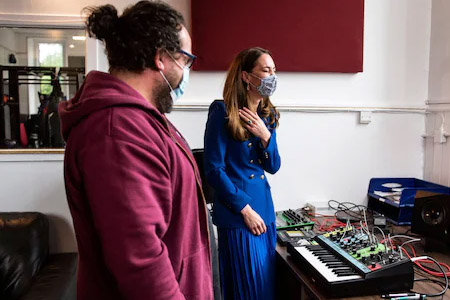 "Mine looks like a cross between a balloon and a whoopie cushion," the Duke said in despair.
Earlier, the couple had visited the Scottish Violence Reduction Unit in Cockenzie, where the Duchess tried her hand at being a music producer – only to receive a scathing review.
As she started making a beat on a looping pad, the Duke said: "What's that? It sounded like a cat. It might catch on – in about a hundred years' time."
A few moments later, he said: "It's hurting my ears. I'm not sure it's Number One material yet."