Prince Harry and Meghan Markle appeared at Global Citizen Live in Central Park, New York on Saturday.
Duke and Duchess of Sussex warmly invited people to visit their website Archewell but not for too long.
The site, which invites fans to subscribe for updates about their "compassion in action", has introduced an automated pop-up message to remind visitors about their screen time.
They say after 20 minutes spent on the page "We love having you here… But we're mindful of screen time. Why not take a break? We'll be here."
The message is in line with the Centre for Humane Technology, one of Archewell's partners, which recommends turning off online notifications, deleting 'toxic' apps, and tracking one's screen time to modify habits.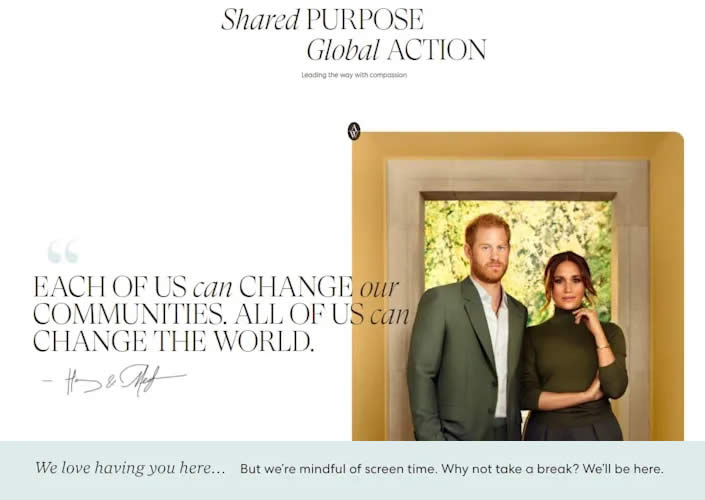 Meghan and Harry mention on their website, "As we increasingly understand the direct link between technology and its effect on each of us – online and offline – Archewell Foundation will continue to prioritize critical work around the state of our digital world."
The couple returned home to their children Archie and Lilibet in California after a whirlwind tour of New York.
Exclusive pictures obtained by Daily Mail show the Duke and Duchess of Sussex returning home Saturday night.
They were in a Big Apple to promote vaccine equity, taking part in a worldwide "Global Citizen Live".
During their visit, they were also photographed with UN Secretary-General Antonio Guterres.
During a visit to One World Trade Centre, they also spent time with New York Governor Kathy Hochul and New York City Mayor Bill de Blasio.
Prince Harry joined primary school students on a floor in a Harlem school on Friday to hear Meghan read from her book, The Bench.
During the trip, Prince Harry met with Joo Lourenço, the President of Angola, in his position as a President of African Parks.