The couple shared a kiss on stage before paying tribute to the bravery of the Ukraine team at the opening ceremony of the Invictus Games.
The Duke and Duchess of Sussex praised the Ukraine team's bravery during the opening ceremony of the Invictus Games, with Meghan exclaiming, "Slava Ukraine! (Glory to Ukraine!)"
Harry stated that he hopes the games, which are being held in The Hague, Netherlands, will provide an opportunity for the rest of the world to "better show up" for Ukraine.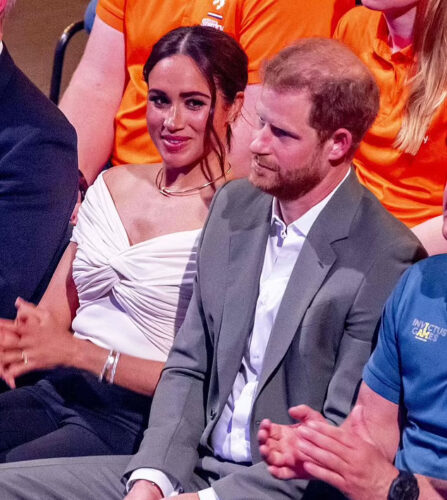 After being introduced to the stage by their wife Meghan, the duke appeared emotional, kissing before delivering a heartfelt speech Dailymail reported.
Harry founded the Invictus Games to aid in the rehabilitation of injured or sick military personnel and veterans from around the world by challenging them to compete in sporting events similar to the Paralympics.
When the Ukraine team arrived for the ceremony at The Hague's Zuiderpark on Saturday night, they were welcomed with a standing ovation and an extended round of applause.
Meghan, who was invited to speak on stage, stated that everyone is "with" the Ukraine team.
She said: "Good evening everyone. We are so grateful to the Netherlands for welcoming us and for hosting the Invictus Games.
"For each team, my husband and I both recognize it's been a lot to get here, both physically and emotionally. Not least of which for the Ukraine team, who we are all standing with."
To huge applause, she added: "Slava Ukraine!"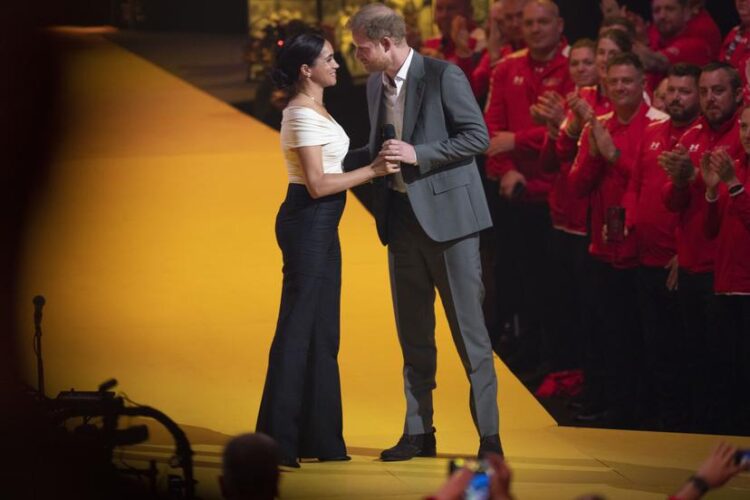 Harry echoed his wife's sentiment, saying: "Your bravery in choosing to come and for being here tonight cannot be overstated.
"You told me yesterday when you decided to join us despite all odds, you said you came to be on this global stage, not simply to show your strength but to tell your truth, the truth, of what is happening in your country.
"You know we stand with you. The world is united with you and still, you deserve more.
"And my hope is that these events, this event, creates the opportunity in how we as a global community can better show up for you."
Harry paid tribute to the "boundless humility, the compassion and the friendship" of the Invictus Games.
He said: "I want to personally thank the people of the Netherlands for welcoming us with such warm Dutch hospitality.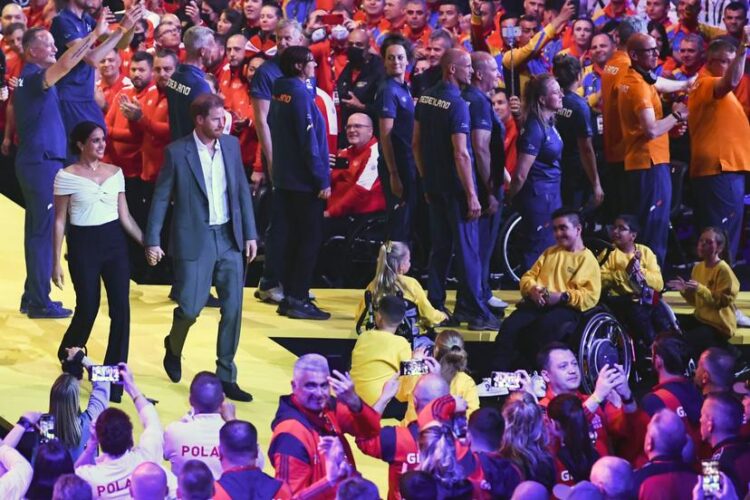 "And thank you to the Dutch government, the Ministry of Defence, and the Dutch royal family for their support in making this all happen after a two-year wait."
In her remarks, Meghan said: "One thing I know for sure is that every single moment it has taken to get here will be worth it, because it is here at the Invictus Games that we honor your years of active duty on the field and your continued service to your country, to your family and your community off the field.
"Thank you so much for your service and thank you to all the family and the friends that are here, who've been supporting you along the way. Because this is service, this is dedication, and this is the Invictus family."