Following National Swiss Day, the dynamic duo of OMEGA and Swatch unveil a sparkling twist to the MoonSwatch. Celebrating the vibes of August 1st, these horological powerhouses present the newest variant of their sought-after "Mission to the Moon Moonshine Gold" watch. But, this timepiece isn't just about ticking seconds; it's a salute to legacy.
Influenced by Swiss National Day, this edition of MoonSwatch goes beyond the confines of an ordinary watch. The gold-plated second-hand, exclusively molded under July 2023's full moon, is adorned with a vivid red Swiss lantern design. This lantern, gracefully etched on the golden chronograph seconds hand, echoes the essence of Switzerland's celebrated day.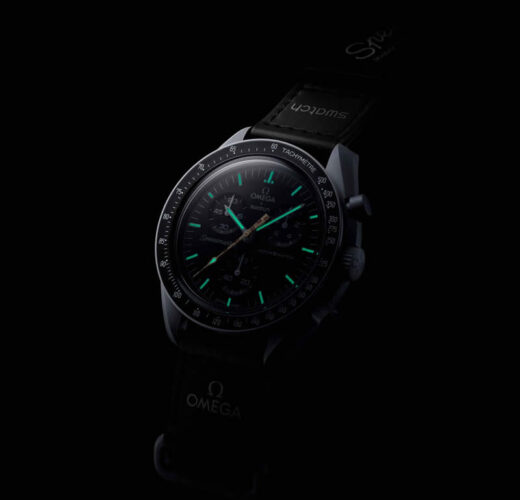 While the design might remind some of the "Pink" version released in May, the "Swiss Lantern" variant stands apart with its unique Swiss-inspired finishing touches. However, the Moonshine Gold MoonSwatch remains true to its roots, flaunting its classic elements like the signature "Mission to the Moon" black and grey case, crafted from Swatch's innovative Bioceramic material. The reliable quartz movement, the sleek black velcro strap, and other features remain unchanged.
No MoonSwatch is truly whole without its signature moon-esque cover, gracefully concealing the battery compartment, underlining its celestial connection.
Watch aficionados and newcomers attracted by the Swiss charm can get their hands on the Moonshine Gold "Swiss Lantern" MoonSwatch globally at Swatch outlets starting tomorrow, with a tag of $300. It's also worth mentioning the watch is already creating a buzz in the resale arenas.
Dive into a fusion of Swiss artisanship, lunar enchantment, and the brilliance of the OMEGA x Swatch collaboration. This MoonSwatch is a journey through time, merging age-old traditions with contemporary flair, reminiscent of the Swiss landscape.