At Baselworld 2014 Bulgari (Bvlgari) quietly introduced two ultra-thin versions of the Octo collection that has been a mainstay of their focus for a few years now. The Octo Finissimo is incredibly thin and something I think many people will enjoy.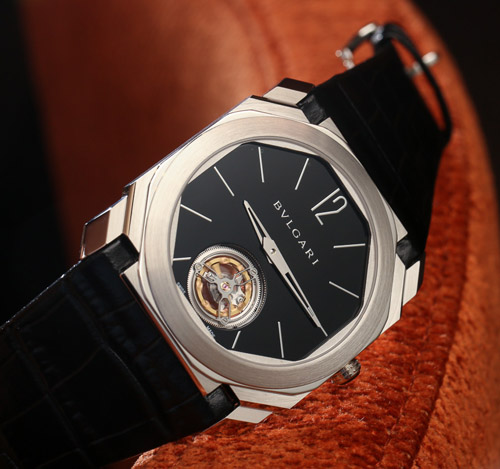 In 2012 Bulgari released their fully in-house branded version of the Octo, that was a design acquired with the inclusion of the Gerald Genta brand. Genta, who was an extremely talented and legendary designer created the Octo, as well as other Bulgari products that they continue to produce today. In addition to a very nice manually wound time-only model, the flagship Octo Finissimo model is this Tourbillon model – and as of 2014 is happens to be the thinnest tourbillon in the world.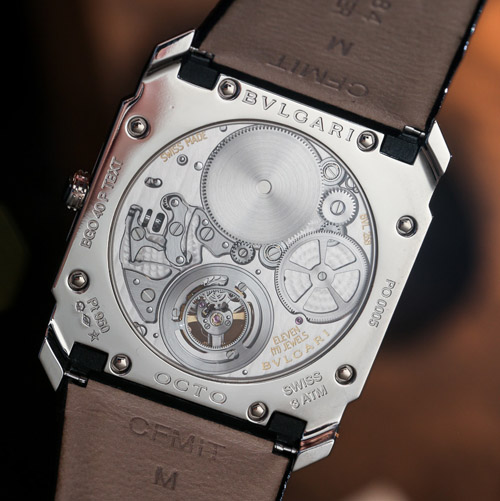 Last year we went hands-on with the Bulgari Octo on a bracelet, but it was a relatively quite year until they released a chronograph version. With the Finissimio range they are stepping it up in a way that we did not expect. Ultra-thin movements and cases are very popular right now, but this is the first I can think of that comes in a squared versus round case.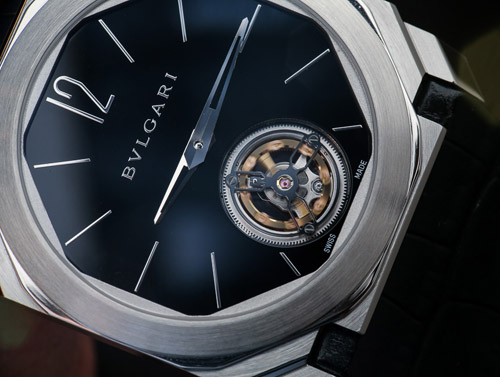 It also happens to be extremely thin compared to the last holder of the world's thinnest tourbillon watch crown. Bulgari's Octo Finissimo beat out last year's Arnold & Son UTTE (aBlogto Watch review here) watch as the thinnest tourbillon-based timepiece. It actually beat it by a lot. Interestingly enough the UTTE – which being very thin – wasn't really an exercise is being insanely thin. With the Octo Finissimo Bulgari really went all out in engineering both a case and movement that would be hard to beat.
For example the movement in the Octo Finissimo Tourbillon is over a millimeter thinner than the movement in the Arnold & Son UTTE. The UTTE's movement was 2.97mm thick while the Bulgari caliber is a scant 1.95mm thick. Further, the UTTE case is 8.34mm thick, while the Octo Finissimo Tourbillon is claimed to be just 5mm thick. It really does feel like a wafer on the wrist while the strap feels thicker than the case.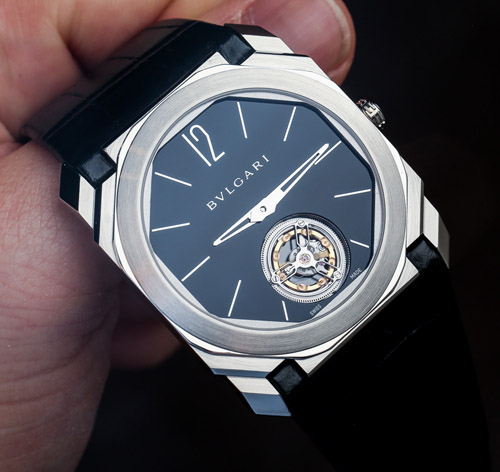 The movement is rather impressive for all that slimness. It is made up of 249 parts, operates at 3 Hz, and has a power reserve of about 55 hours. One of the major ways that the movement was made to be so thin was the use of ball bearings in much of the places where other types of components may have been traditionally used. –ablogtowatch