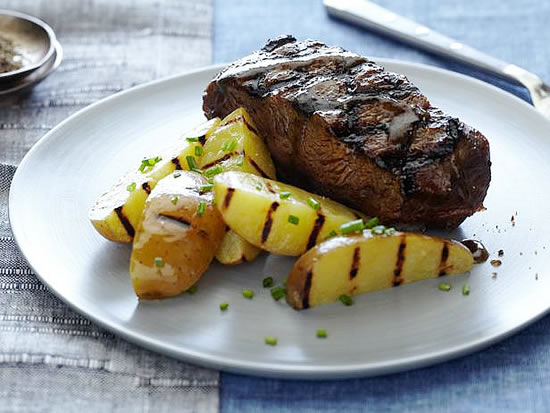 Flat Iron Man Steak is the purely western healthy food. This is kind of western food recipes, Flat Iron Man Steak can be very delicious and healthy dishes.
Ingredients:
  4 (8 ounce) flat iron steaks
1/4 cup butter or margarine
1 tablespoon pepper
1 tablespoon Worcestershire sauce
1 bag hickory or mesquite chips
Method:
Heat up your grill to desired temperature (temp. depends on gas versus charcoal).
Place about 2 big handfuls of smoking chips on a large piece of aluminum foil.
Wrap tightly around chips and poke many holes for smoke to escape.
Place wood chips on heated grill and let be until they start smoking. (You may need to move them around in the grill depending on where the heat is to get them smoking.)
Combine melted butter, pepper and Worcestershire sauce in a small bowl.
Once wood chips are smoking, place steaks around grill and baste with the butter sauce.
Replace lid and allow smoke to circulate around steaks.
Cook for 5 to 6 minutes on each side, basting every 2 minutes. Cook until steak reaches desired temperature. Works well with grilled asparagus or grilled corn in stock.