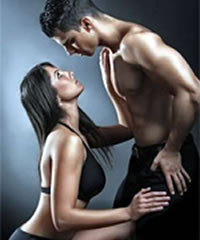 Sexercise isbest winter workout toprep your body and muscles. This warm winter workout results in sufficient calorie burn along adding spice to your sex life.
Every man craves for heat of his partner with the arrival of winter and finally ends up in sex to relax his body temptation. This is what sexercise offers you but more than a craving. Sexercise not only keeps you warm in extreme cold weather but also keeps you fresh, healthy and toned on cold winter days.
What is Sexercise?
Sexercise couples sex and exercise together. It's a workout in a different way. No special workout equipments and pace is required to practice it. You only need your regular sleeping place and a partner to romp with. It's a good and healthy appetite for you and your pal that makes you both fit and active with an appreciable weight loss.
What does Sexercise do?
Sexercise is a fitness game with enjoyment. This exciting workout takes boring factor out of your regular workout and brings long-term benefits for your life.
Sex uses every muscle group with heart and lungs working hard and burning about 300 calories an hour
The endorphins released from body during sex stimulate immune system
Man having lie with his back and woman squat under him can work on her inner thighs and calves while man on his six pack
Sexercise prevents excessive fat storage in winter and results in commendable weight loss
It improves body strength and balance
It also reduces frown lines from deepening and gives you a wrinkle free face and body
According to researches done on men, frequent sex reduces the risk of heart attacks in men by 50% and helps them live longer
Therefore, this winter forget running, jogging and weight lifting as the sexercise under sheets tones your body well with great joy and less hard work.