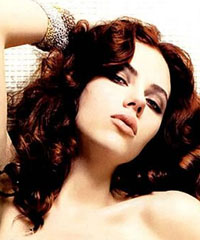 Universally known as one of the sexiest women in Hollywood, Scarlett Johansson has actually been acting professionally since the age of eight. A native of New York City, where she was born on November 22, 1984, Scarlett Johansson was raised along with her twin brother as the youngest of four children, and she developed an interest in acting at the age of three. After enrolling in classes at the Lee Strasberg Theatre Institute for Young People, she made her stage debut opposite Ethan Hawke  in the off Broadway production of Sophistry. Her film debut followed in 1994, when she had a supporting role in North, and she subsequently appeared in the little seen Just Cause (1995) and If Lucy Fell  (1996).
Scarlett Johansson had her first significant screen breakthrough with her role as one of two orphaned teenaged sisters in Manny & Lo (1996), a coming of age drama directed by Lisa Krueger. Scarlett Johansson, who shared the screen with Aleksa Palladino and Mary Kay Place, earned an Independent Spirit Award Best Actress nomination for her work in the film, and she soon found herself being tapped by Robert Redford to star as Kristin Scott Thomas' daughter in The Horse Whisperer (1998). Although the film met with a very mixed reception, Scarlett Johansson was widely praised for her portrayal of a girl who loses her leg and her best friend in a horrific accident.
In 2000, the actress signed on to play one of the heroines (alongside Thora Birch) of Terry Zwigoff's screen adaptation of Ghost World, Daniel Clowes' celebrated comic about the adventures of two teen girls grappling with post high school life. That same year, she starred in American Rhapsody, in which she portrayed a young girl who escapes communist Hungary in the 1950s and travels to the U.S.
Though she would take a brief detour into camp with the 2002 giant spider fiasco Eight Legged Freaks, the respect Johansson had gained in the film industry as a result of her previous dramatic roles found the young actress in high demand among indie directors while quickly catching the eye of the Hollywood elite. With Sofia Coppola's Lost in Translation, Scarlett Johansson's touching performance as a young girl who strikes a tentative friendship with a washed up American actor (memorably portrayed by Bill Murray) left no doubts regarding her dramatic skills, and although a Best Actress Oscar nomination eluded her, she received a boatload of nods from critics' groups and the Golden Globes. The rising starlet was soon cast in the lead of such subsequent films as The Girl with the Pearl Earring (2003) and The Perfect Score (2003).
After sticking to form in 2004 with roles in In Good Company and A Love Song for Bobby Long, Scarlett Johansson took her first stab at a lead role in a big budget Hollywood flick, starring opposite Ewan MacGregor in Michael Bay's futuristic actioner The Island. While the picture was panned by critics and avoided by audiences, it did nothing to slow the young star down. She closed out the year by receiving virtually unanimous praise for her performance in Woody Allen's Match Point.
She immediately reteamed with Allen, who was full of praise for the young actress after their first collaboration, for the supernatural comedy/murder mystery Scoop in 2006. That same year she played a pivotal role in Robert De Palma's adaptation of The Black Dahlia, while also filming an adaptation of The Nanny Diaries with Laura Linney and Paul Giamatti. Rebecca Flint Marx, All Movie Guide