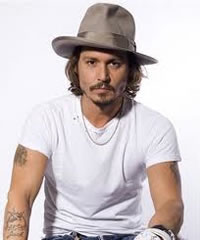 Hollywood's versatile actor Johnny Depp is going to team up with his singer girlfriend Vanessa Paradis to record a duet for Serge Gainsbourg tribute album.
For 'From Gainsbourg to Lulu', Johnny Depp and Vanessa Paradis have covered the Serge Gainsbourg's 1971 track Ballade De Melody Nelson. The album will also feature some classics by the late singer Serge Gainsbourg that were performed by Iggy Pop, Scarlett Johansson and Rufus Wainwright.
The Pirates of the Caribbean star, Johnny Depp is not stranger for music lovers as earlier he joined  his movie father Keith Richards to rock on stage and also played with ZZ Top rocker Billy Gibbons after getting an award at the Austin Film Festival.