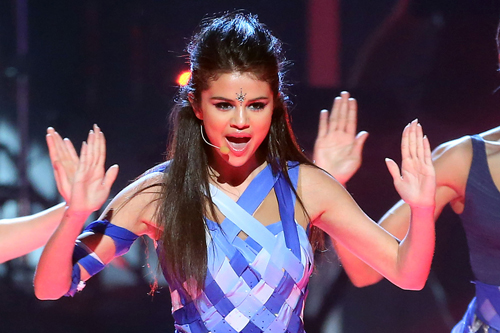 Selena Gomez one of the renowned singers was performing in a musical concert in Virginia.This 21-year-old was performing in one of her track 'Slow down'.
Selena Gomez has always been successful in captivating the audience with her stage presence. In Virginia, she electrified the audience with her stage performance but all of sudden she fell off.
She was all in a boom boom zone in mesmerizing the audience that she misjudged how close she was to the stage edge, and ended up falling off the stage into the platform.
Fortunately, the fans in the first row and the backup dancer quickly came to rescue her.
In spite of being less injured Selena Gomez chose not to leave the stage in despair rather made a positive move with "Show Must Go On" mantra.
She chooses to finish what she has started and continued singing and engages her fans one again.
Her proactive approach and confidence showed her love for her fans and is being applauded for her bravery.
It is reported that by the grace of God that she is in a recovery process and soon will be all fit and fine.