Julianne Moore played fairy godmother at the Cannes Film Festival on Friday night, handing the Chopard Trophy for up-and-coming talents to Lola Kirke and Jack O'Connell.
For the 15th edition of the prize, Chopard opted for an intimate presentation at its rooftop suite at the Grand Hyatt Cannes Hôtel Martinez, where Colin and Livia Firth, Lupita Nyong'o, Fan Bingbing and Rossy de Palma were joined by former Chopard Trophy winners including Marion Cotillard and Léa Seydoux for the after party.
Moore revealed she has known Kirke since childhood. "It's very exciting to watch her come into her own this way and receive such a terrific prize," the Oscar winner said. She was reluctant to dish out advice to the winners.
"I think they're well on their way, honestly. I mean, the advice that I give to anybody is to just do it because you want to do it. When people say they want to pursue acting, I'm like, 'Unless you actually like the work, unless you actually like acting, don't do it.' Because the rest of it is fun, but it's not what your life is about," she said.
[contentblock id=1 img=adsense.png]
Kirke, who captured the judges with her performance in "Gone Girl," gave a charmingly self-deprecating acceptance speech. "For the past two weeks I really thought this was a prank, and then I got picked up in a Porsche and got followed by a bodyguard last night, and I thought, 'Oh wait, no, this is very real,'" said the actress, dressed in vintage Geoffrey Beene.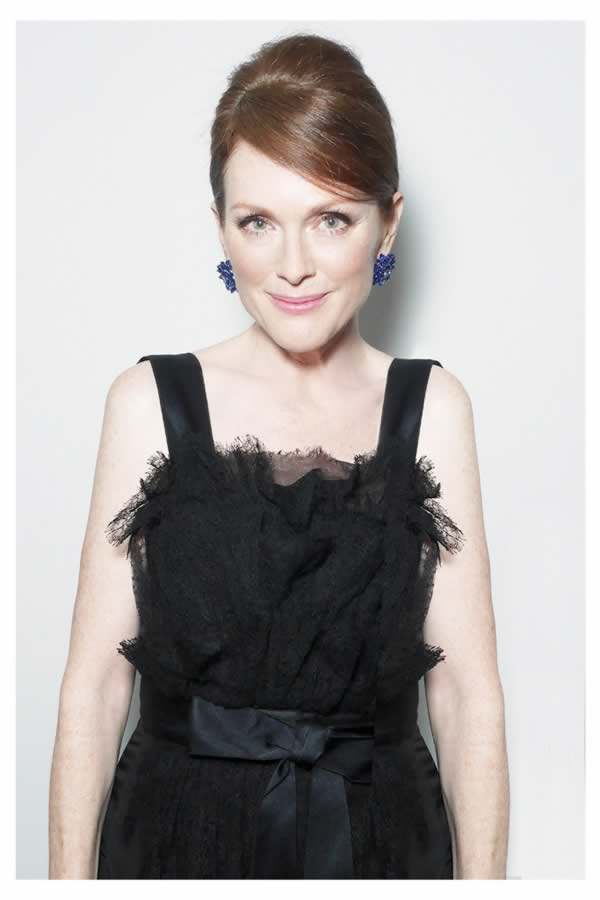 Kirke, whose older sister Jemima stars in "Girls," is returning for a second series of the classical music TV drama "Mozart in the Jungle" and will soon appear in indie movie "Mistress America," opposite Greta Gerwig.
O'Connell, recently seen in Angelina Jolie's World War II drama "Unbroken," decided to put his ambition on the table. "I'm not going to act surprised by this. I've been trying for a long time, campaigning for a long time to put myself here," he told WWD. "I feel comfortable admitting that with myself and then other people, provided I keep an eye on what's next. I don't like to dwell."
Among his upcoming releases is Jodie Foster's "Money Monster." Predictably, O'Connell had a taste of costar George Clooney's famous on-set pranks. "I was doing some press-ups to get in shape, and he came and stood behind me. I didn't notice – the whole crew saw – he started doing, like, 1950s-style calisthenics," he recalled.
[contentblock id=2 img=adsense.png]
Meanwhile, Moore was taking stock after a banner year. In addition to the Oscar for "Still Alice," this week she belatedly picked up the prize for best actress she won at last year's Cannes festival for "Maps to the Stars."
"I think, other than the years that my children were born, it was the best year of my life," she acknowledged. "But in terms of the kinds of parts, I mean, I've always had a pretty eclectic career, so it's not like that's sort of changing. I'm still going to work with the same kind of directors." Moore does hope that all the attention on female film talent at this year's festival will eventually bear fruit.
"We're a wonderful business and we have a lot of support, we have a lot of opportunities, so you don't want to complain about the things that come your way. On the other hand, I feel like there's something in the air, that something is changing," she said, noting the current box office success of "Pitch Perfect 2."
"It's about a group of girls in college going through a singing competition and all the romantic things are completely ancillary. So it really feels very, very female-centric, and that just felt refreshing, and it feels like it's propelling this movement forward," she remarked.
[contentblock id=3 img=gcb.png]