Late Fast&Furious star Paul Walker's daughter, Meadow Walker, has shared a throwback photo on Instagram Stories and revealed a moment of herself with her father to celebrate Easter.
As we all know, Paul Walker died in 2013 at the age of 40, in a tragic car accident.
As you might see in the photo, baby Meadow was sitting on her young father's lap while looking at the Easter egg basket which was on her father's hand.
Father-daughter had made the day more special by choosing the same color outfits. In addition, you can easily notice that this photo was taken on an Easter day although she didn't give any information for the image.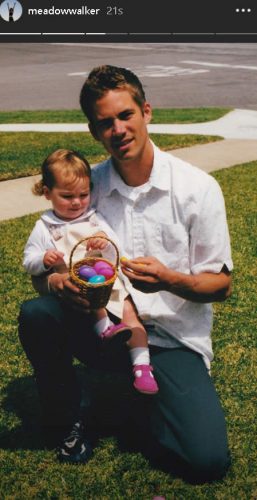 A few days ago, Meadow Walker has shared a rare video on her official Instagram account and revealed the most heartwarming video of her dad, as she surprised him for his birthday.
In the caption of her post, Meadow said that she never thought she would share this video, but she admitted that it 'felt right' to share.
In the short video, a younger Meadow can be seen seemingly crashing into her dad's room and surprising Paul for one of his birthdays.