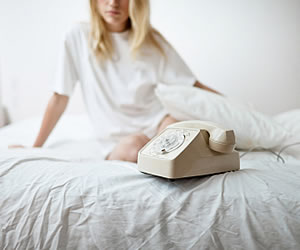 "Why hasn't she called?"  "Why hasn't she called /' the question can disturb anyone of us for weeks before we finally get over it and carry on with our routine normally.
Many a girls hardly think the torment given to those poor guys when we don't call them. Maybe they ran anxiously after the first date and we never care to reply and got back to them, or maybe we met them at a party and exchanged our numbers. On the contrary, the girls may be valid on their stand thus there can be many reasons; here are a few top ones:
1. Divorce was in process

2. She may didn't like the way you kissed or approached the girl. So be prepared and don't think as "Why hasn't she called?"

3. You discussed too much about your ex-girlfriend which was annoying so this is one bad way to put both into an awkward situation. So it's obvious to think "Why hasn't she called?"

4. You are too obsessive about your job- workaholic. Girls love to sit with guys  who make them feel good. If you sat through your date moaning about your boss and just  crying about how bad was today's date so be sure that you have lost the show.
5. You may have cracked stupid and lame jokes which were boring.
6. You insulted her in some way example: her job, her dress etc so why the hell will she call you? So its understood as to "Why hasn't she called?"
7. You had really very bad breath.
8. She doesn't want to date such an older man almost her dads age.
9. She saw you checking out other woman which is alarming for her.
10. You resemble too much like her ex thus she won't call you to put herself in an uncomfortable relationship. "Why hasn't she called?" "Why hasn't she called?"
11. She decided to start a sex sabbatical.
12. You wore weird unattractive clothes like: white pants.
You cheated on her previous girl-One of the ideal ways to ruin a good date is to discuss and stress on your ex and how you cheated on her. In a study researchers at Cornell University it was found that the trait both men and women rated highest was commitment. She didn't find you attractive or happening at all-  this is also one of the top disastrous dates. It may sound too bookish but it is a fact of the matter and  attraction plays a mammoth role in dating.
Last but not the least the most accurate and generalize answer is where there is no chemistry between the couple. Worst dates are those that you get really don't excited about and you really regret as to why you wasted so much time on today's date and here is you realize that there's no chemistry. And thus don't expect to think as to "Why hasn't she called?"