The opulent Mexican villa where Kim Kardashian spent her summer vacation with Kanye West and baby North. They had their pre-wedding party at Versailles in France and tied the knot at a fort in Florence, Italy. So only a casa fit for a queen would do when Kim Kardashian, Kanye West and their daughter North went on holiday to Mexico recently. The family stayed at the gorgeous oceanside Casa Aramara in Punta Mita, near Puerto Vallarta.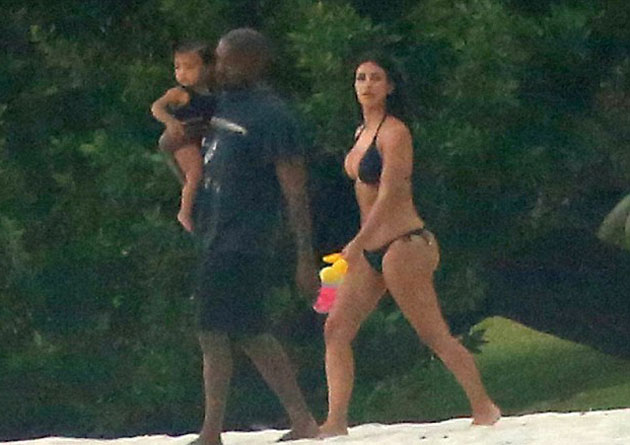 Kim, 33, and Kanye, 37, shelled out an estimated $15,000 to $30,000 a night to stay in the lavish private residence owned by Girls Gone Wild founder Joe Francis. The luxurious house boasts 12 bedrooms, 13 bathrooms, 5-star executive chefs, a screening room, a gym, two pools and its own private beach. Renovated in 2013, Casa Aramara is nestled amid acres of lush tropical gardens offering peace and seclusion.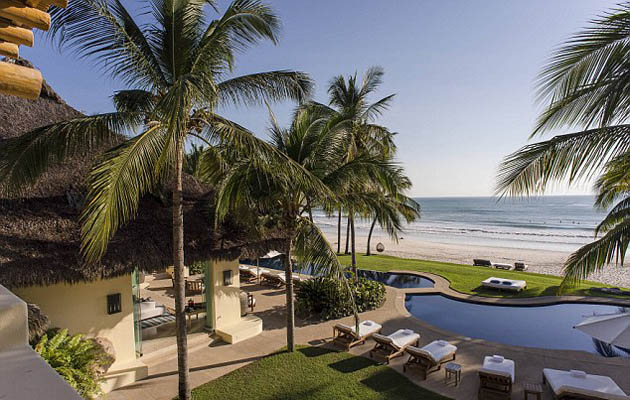 Pictures obtained by Mavrixonline show an expansive lounge, with marble floors and decorated in white with cushions and rugs in cooling shades of blue. A glass wall of windows fold back to offer an unparalleled view of the beach and the ocean. The dining room holds a massive solid wood table that seats 20 – and with a personal chef on hand, the couple probably didn't do any cooking themselves. One of the bedrooms features dark wood with rattan details and opens onto a terrace while another is decorated in shades of sea blue.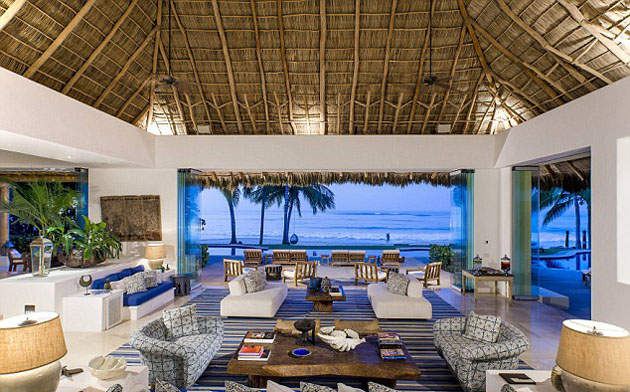 Kim documented her vacation on her Instagram account which showed her jet skiing, listening to a mariachi band over margaritas and quesadillas and sharing a selfie of her in a bikini with the caption, 'Let me sleep!!!!.' Kim visited the resort in July with Kanye and one-year-old daughter North, before returning earlier this week for a romantic getaway with just her husband and a few pals. Her Mexican holiday came after she had a hectic few weeks following a whirlwind trip to France for Paris Fashion Week and the launch of her hugely successful new iPhone App, Kim Kardashian: Hollywood.