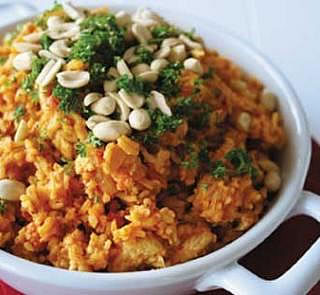 Peanut chicken and rice is one pan dish has the comfort food qualities of risotto but a bit more zing. Serve it with salad or a green veg.
Ingredients
1 tablespoon oil
2 boneless and skinless chicken breasts, thinly sliced
1 onion, chopped
3 cloves garlic, crushed
400g can chopped tomatoes
1/4 cup crunchy peanut butter
1 tablespoon curry powder
3 cups chicken stock
1 1/2 cups basmati or jasmine rice
1 large pinch thyme
1/2 teaspoon salt
Instructions
Step 1 Heat the oil in a large saucepan. Cook the chicken slices until sealed (slightly brown) then set aside. Add the onion and garlic to the pan and cook till soft. Return the chicken to the pan and mix in the tomatoes, peanut butter, curry powder and thyme and mix well to disperse the peanut butter through the mixture.
Step 2 Add the chicken stock and bring to the boil. When the mixture is boiling stir in the salt and rice. Return the mixture to the boil then cover and reduce the heat. Cook for 20 minutes on low, then check to see if all the liquid is absorbed and the rice is cooked. Serve with a salad or green vegetables.
Via: Healthyfood