Is your work bag sending the right message? First impressions are important, and you want to look professional and put-together at the office. But with so many options out there, it can be tough to know which bag is the right one for you. Here's a guide to the most stylish men's work bags, so you can make sure you're carrying the perfect accessory for your 9-to-5.
The importance of having a work bag that looks professional
Having a work bag that looks professional can be an important part of making a good impression on others and coming across as more responsible. No matter the job, it's essential to project an image of yourself that speaks professionalism. A well-designed workbag can help to achieve this by having various specialized pockets and compartments inside and out to securely store your items like a laptop, notebooks, business cards, pens, etc. It also shows organization and attention to detail which is vital in any workplace.
Professionalism with good looks doesn't have to be expensive either; nowadays you can find many value-for-money bags that look stylish yet won't break the bank. So if you are looking for a product that keeps your belongings organized while also giving off a great impression, then consider investing in a high-quality work bag – it's definitely worth every penny!
Different types of work bags for different styles
With so many options for work bags on the market, finding the right one to suit your needs can be overwhelming. It's important to find a bag that works with your lifestyle and matches your style. Whether you're looking for something classic yet modern, edgy and sophisticated, or lightweight and playful, there are plenty of bags out there to choose from.
For those in search of timeless style, briefcases, and messenger bags offer an elegant touch; while shoppers looking for a bit more personality should opt for backpacks with unconventional patterns and textures. Sporty types might prefer slouchy bucket bags that are both stylish and practical; while those who favor structured shapes should seek out weekend totes with plenty of compartments to stay organized. The key is to find a work bag that fits into your routine without sacrificing its aesthetic charm.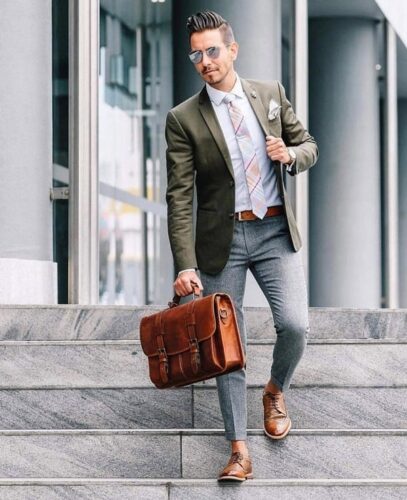 How to choose the right work bag for your needs
Choosing the right work bag can be tricky, especially if you don't know what to look for. When it comes to finding the perfect bag, start by considering how much storage space you need. Is there a laptop or tablet you need to bring with you? What size will fit your day-to-day needs best? Next, think about the style or design that would best suit your needs.
Take into account factors such as materials, compartments, and pockets for small items, as well as any comfort features like ergonomic straps or handles. Additionally, remember that depending on where your job takes you, some bags may offer better protection from environmental elements (such as rain) than others. When done correctly, selecting the ideal work bag doesn't have to be difficult – just consider all of these aspects before settling on one!
The most stylish men's work bags on the market today
Men often want bags that look stylish and professional for the workplace, and modern trends are more than accommodating. For men looking for great work bags, there is a wide variety of options that can fit any taste – from laptop backpacks to messenger bags.
Many come with a range of compartments designed to separate items, like shoes, documents, and keys. A selection of contemporary fabrics such as leather, nylon, and canvas makes these bags comfortable to handle, even when loaded up with items needed throughout the day. Whatever type of bag you're after, it's easy to find a style that fits your preference while keeping you fashionable and professional in the workplace.
Tips for keeping your work bag looking its best
It can be difficult to keep your work bag looking its best. But a few simple tips can help! First off, try to avoid overstuffing it, as that can lead to damaging the straps or fabric of the bag itself. Also, regularly clean out your bag so you don't have unnecessary clutter. Another smart idea is to make use of interior pockets when possible.
That way, you can stay organized and reduce strain on the exterior design of the bag. Lastly, consider protecting your bag with a waterproof coat if you plan to use it in wet conditions such as walking through rain or snow. Taking these steps will help ensure your work bag looks great for years to come!
All in all, having the right work bag is an essential piece of your professional wardrobe. Not only does it give you a smart and stylish look, but it also allows you to stay organized and prepared for any situation. It is important to choose a work bag that fits your personal style while still being functional and appropriate in the workplace.
With the immense variety of styles on the market today, you are sure to find something that suits your aesthetic and meets all of your needs. Plus, by taking care of your work bag and performing regular maintenance, like cleaning and repairs, you can make sure it lasts as long as possible and always looks its best.