Clearly Lauren Stoner lives by the adage, 'If it ain't broke, don't fix it'. The 30-year-old stunner hit the beach in Miami, Florida on Thursday wearing the same bikini she had worn on the same beach two years ago. The blonde – who rose to fame thanks to her brief stint on reality show.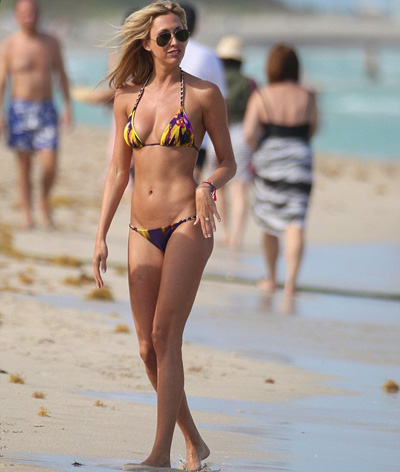 The Spin Crowd – looked just as good, if not better, in the yellow and purple two piece as she did when she last wore it on March 26, 2012. The statement making bikini featured a tie-dye pattern with a triangle top with chain straps. Standing testament to her toned shape, the bikini bottom's chain did not – like it would with most people – cut into her hips but instead served to show off her long legs.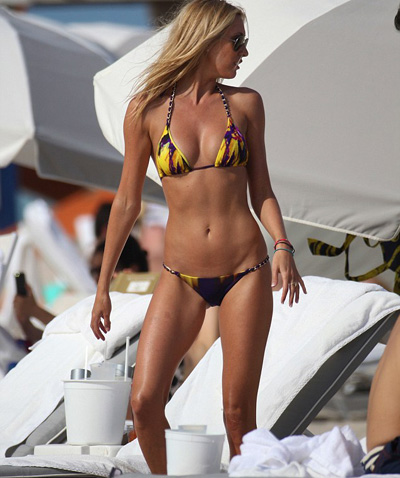 Obviously Lauren Stoner – who once reportedly dated Transformer Director Michael Bay – spends a lot of time at the beach, as she had a golden all over tan. The reality star accessorised her look with a pair of Ray Ban aviators and some string bracelets around her wrist. While in 2012 Lauren Stoner's hair was wavy and a darker blonde, on Thursday, she straightened her locks. Lauren really treated herself to a relaxing Thursday, alternating from sun baking in a beach chair to splashing along the shore line.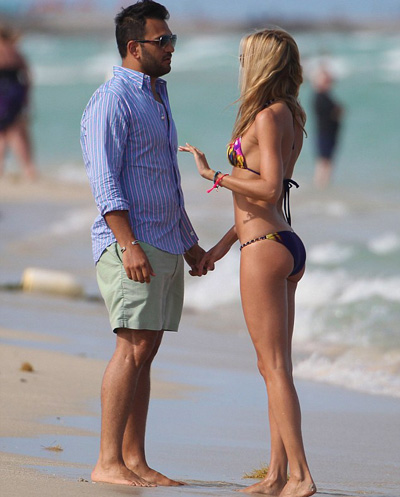 The star was joined by her boyfriend, whose identity remains a mystery despite being photographed with her often. Wearing green shorts and a blue and white striped shirt, Lauren Stoner boyfriend avoided following her into the water but did walk her down to the shore line. After a quick dip, the couple headed back to their sunny beach chairs and Lauren stopped by the bar to grab what appeared to be a couple of shots.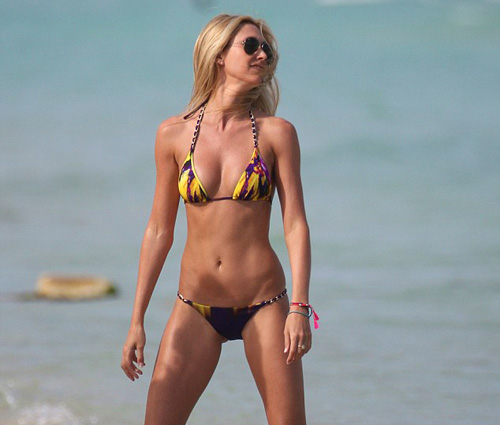 Since her reality show, Lauren Stoner showbiz career has been rather quite sans for a cameo in her former boyfriend's film Pain & Gain starring Mark Wahlberg and The Rock. Her show The Spin Crowd was on E! in 2010 and was produced by Kim Kardashian as it starred her friends and publicists, Jonathan Cheban and Simon Huck. However, the show failed to be popular and was cancelled after eight episodes.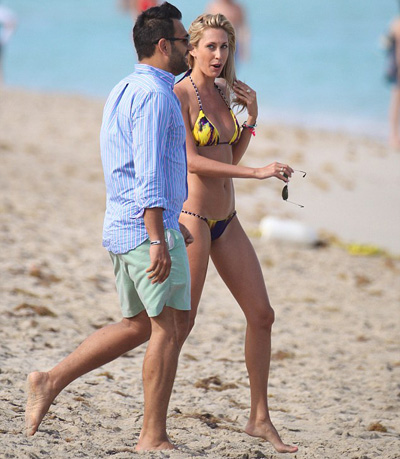 -Dailymail