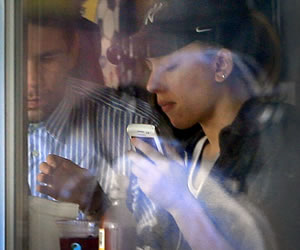 Hollywood beauty Scarlett Johansson is dating Frenchman Romain Dauriac – just weeks after splitting from advertising executive Nate Naylor, MailOnline can reveal. The blonde star, 27, who strutted down the red carpet last night at the New York premiere of her new movie Hitchcock, has been trying to keep her romance with Romain, 30, under wraps. The couple are believed to have met through mutual friends and have been spotted together at clubs and bars in Paris and New York over the past few weeks. Last month, the couple were seen having lunch together at trendy Soho spot La Esquina, but Scarlett fled when they were pictured.
And today, Page Six reported that Scarlett was seen cuddling up to a 'dark-haired' man 'who may have been speaking French at one point' at the Beatrice Inn in Manhattan on Thursday night. The source said: 'They were very lovey-dovey and holding hands under the table all night. They were holding each other while outside smoking in the cold.' Romain is the former editor of French magazine Clark which specialised in underground French urban art, and is the current manager of a creative agency. The couple are both friends of French tattoo artist Fuzi, who earlier this month tattooed Scarlett with a horse shoe and the message 'Lucky You', on her rib cage, which she proudly showed off. While Romain is believed to have plumped for a tattoo which reads Lost Illusions.
The couple were also recently seen dancing closely together at Parisian bar Pompon, according to Pure People website and have been trying to keep their discreet romance undercover. Scarlett, who was previously married to Ryan Reynolds – now married to Blake Lively – had been dating New York ad exec N ate Naylor for the past year. A source told People magazine on October 15 – the same day that the Lost in Translation star was pictured in New York with Romain – 'She broke up with him last week. 'He's pretty upset, but the writing was on the wall. A lot of people were surprised it lasted this long.' Scarlett is now starring in Hitchcock, where she plays Janet Leigh during the filming of Psycho – whose character is killed off in one of the most famous scenes in cinema history.
She stars opposite Anthony Hopkins as the great filmmaker and Dame Helen Mirren, as Hitchcock's wife Alma Reville. The film is already garnering great reviews and Scarlett looking stunning in a tight emerald green and black mini dress by Rodarte as she joined cast members including Jessica Biel at the premiere last night. – Dailymail