Michael Moore backtracks and insists his comments calling snipers cowards was NOT about American Sniper Chris Kyle. Michael Moore claims he didn't mean to offend the memory of Chris Kyle when he wrote a series of tweets yesterday calling snipers 'cowards'.  The Oscar-nominated documentary filmmaker wrote a lengthy Facebook post today clarifying his statements, saying they were not intended as a criticism of the movie American Sniper, based on Kyle's bestselling memoir.
[contentblock id=1 img=adsense.png]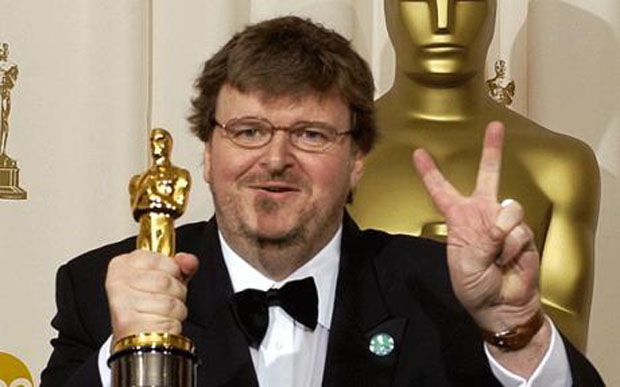 The Navy SEAL became the deadliest sniper in U.S. military history for shooting dead at least 160 during tours of duty in the Middle East, but was tragically killed just four years after he was discharged by a fellow soldier who was allegedly struggling with post-traumatic stress disorder. Moore caused an uproar on Twitter on Sunday, when he tweeted his thoughts on snipers.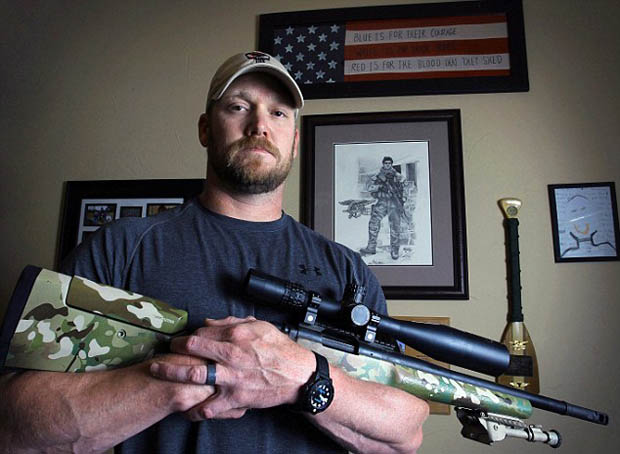 'My uncle killed by sniper in WW2. We were taught snipers were cowards. Will shoot u in the back. Snipers aren't heroes. And invaders r worse,' the Fahrenheit 9/11 director said. 'But if you're on a roof of your home defending it from invaders who've come miles, you are not a sniper, u are brave, u are a neighbor,' he added. After an onslaught of criticism, Moore tweeted again today to claim he was not talking about either Kyle or the film, pointing out the fact that he didn't mention either directly in his tweets. 'Hmm. I never tweeted 1word bout AmericaSniper/ChrisKyle. I said my uncle killed by sniper in WWII; only cowards would do that 2 him, others,' he said.
[contentblock id=2 img=adsense.png]


He went on to write about his mixed-feelings towards the film in a protracted Facebook post, saying that while some aspects of the movie were praise-worthy, director Clint Eastwood (noted staunch Republican) didn't cover the history surrounding the Iraq War to Moore's liking. 'Awesome performance from Bradley Cooper. One of the best of the year. Great editing. Costumes, hair, makeup superb! 'Oh… and too bad Clint gets Vietnam and Iraq confused in his storytelling. And that he has his characters calling Iraqis "savages" throughout the film.  'But there is also anti-war sentiment expressed in the movie. And there's a touching ending as the main character is remembered after being gunned down by a fellow American vet with PTSD who was given a gun at a gun range back home in Texas – and then used it to kill the man who called himself the 'America Sniper'.
American Sniper has been nominated for six Academy Awards including Best Actor and Best Picture. The film, which is based on Kyle's autobiography of the same title reveals not only how he became so successful, but also how the trauma of fighting in Iraq never left him.
[contentblock id=3 img=gcb.png]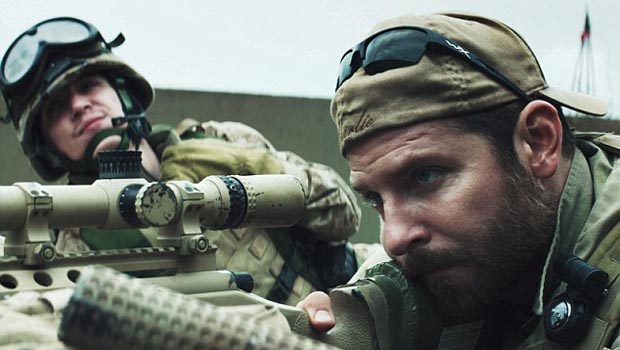 Raised in rural Texas, Kyle started out as a cowboy and his initial application to join the SEALs was turned down because a rodeo accident had left him with metal pins in his arms. However, in the late nineties, the unit relaxed its entrance policy and Kyle was put through the fearsomely tough selection and training regime. In 2003, he was deployed to Iraq, where he made his first long-distance kills even though he had not been trained as sniper. With an obvious talent, he was sent to the SEAL sniper school, where he was taught warfare's loneliest and most controversial job.