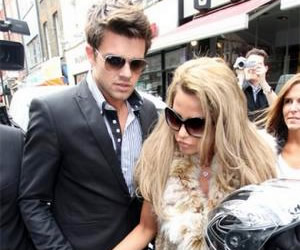 Katie Price's ex-beau Leandro Penna has finally popped the question to her but; Katie Price is yet to accept the marriage proposal.
The 25 years old Argentinean model Leandro Penna had been dating 33 years old girlfriend and the mother of three kids, Katie Price for a year. Recently, the things are getting quite hot in between Katie Price and Leandro Penna and the duo also had a "raunchy" night out at London's Kassaba Lounge.
During the night in London they kissed on the dance floor and were erotic with each other.
According to Katie Price, one of her friends told: "Leandro came to mine on Christmas Day and asked me to marry him. It was a massive shock and completely out of the blue. I don't know what to do."
Whatever!! Leandro Penna is madly in love with Katie Price and does not want to lose her now.