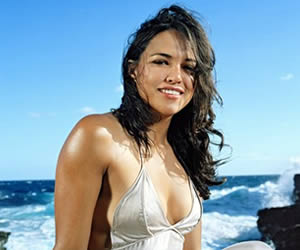 It's the birthday of the Hollywood's tough-girl Michelle Rodriguez. We wish her a very happy birthday and great success in her life.
American actress Michelle Rodriguez has turned 34 on her birthday today. She was born in San Antonio, Texas, US.
Michelle Rodriguez got instant recognition for her debut film Girlfight, by playing the lead role of Diana Guzman, a role that she got by beating 350 applicants during her first audition in 2000. This role also made her winning several awards such as Independent Spirit Awards, Las Vegas Film Critics Sierra Awards, Gotham Awards, Award of the Youth at the Cannes Film Festival and some others.
Later on, Michelle Rodriguez appeared in Hollywood blockbuster films such as The Fast and the Furious, Resident Evil, S.W.A.T., Avatar, Machete, Battle: Los Angeles, The Breed, Fast Five, and in the television series Lost as well as in a number of more films.