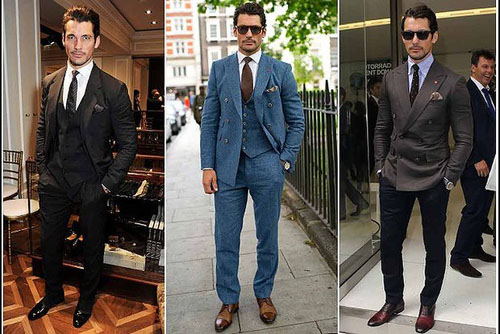 As the year comes to a close, it's time to look back on the last 365 days and honour the best dressed men of the year. This year's list includes actors, athletes, tailors, musicians, models and a couple of men who earned their place just for being some of the coolest cats out there. Without further ado, here are our nominations for the most stylish men of 2014.
David Gandy:
Though he may be best known for his famous face (and body), David Gandy is a surprisingly well-rounded man. In addition to being one of the most sought-after models on the planet, Gandy has spoken at the Oxford University Union, released a mobile app, participated in a discussion panel at the 2014 Vogue Festival, written as a contributing columnist for the London Daily Tele- graph's "Telegraph Man" lifestyle section, starred in commercials and fashion films, and was crowned one of the "Sexiest Men of 2014 " by Glamour readers.
Eddie Redmayne:
It's been a good year for the English upper class. Both Tom Hiddleston and Eddie Red mayne, the actor, singer and model who has earned the next spot on our list, attended Eton and Cambridge before becoming internationally recognized actors and style stars. Redmayne has modelled for Burberry (once with model-of-the-moment Cara Delevingne) and was featured on Vanity Fair's annual International Best Dressed List. He always impresses with his classically British take on men's style, though he calls himself "quite ignorant about fashion" and "colour blind".
David Beckham:
Yes, we're putting Becks back on the list. And really, who could blame us? He continues to be one of the best dressed in the game, year after year. The former English footballer went through some major changes this year, including playing the final game of his storied 20-year career in May and teaming up with the Las Vegas Sands Corp. to help with the development of hotels in Singapore and Macau, but one thing hasn't changed: he's looked incredible doing it all.
Justin Theroux:
These days Theroux gets a lot of publicity for being Jennifer Aniston's arm candy, but that's far from the reason he's earned the final spot on our list. Not only has he found success as an actor, director, and screenwriter, Theroux has also been impressing with his biker style. Few men can make the bad boy look, look this good. Sure, he knows how to bring the A-list outfits out for major events, but where he really shines is his rebellious, frequently black and often in leather, street style.
Patrick Grant:
Patrick Grant has come a long way from his unglamorous first job in an Edinburgh timber yard. He single-handedly put Savile Row tailors Norton & Sons back on the map after becoming creative director in 2005, and the company has gone on to dress the likes of Alexander McQueen, Christian Louboutin, Mumford & Sons, and the Duke of Edinburgh. This year Grant was made an Honorary Professor in Business at Glasgow Caledonian University and hit the small screen as a judge on the BBC television series The Great British Sewing Bee. Smh