Jennifer Lawrence was spotted in the audience at Taylor Swift's "Eras Tour" event in Philadelphia on Sunday, May 14th. Swifties welcomed the 32-year-old actress warmly when she was spotted in the VIP tent.
Jennifer was able to connect with fans, pose for pictures, and have fun dancing and singing along to music. She wore a stunning low-cut crochet tank top to the performance, and we're taking style notes.
For the concert, the Don't Look Up star wore a more casual ensemble.  She was dressed in a colorfully patterned crochet tank top with a plunging neckline.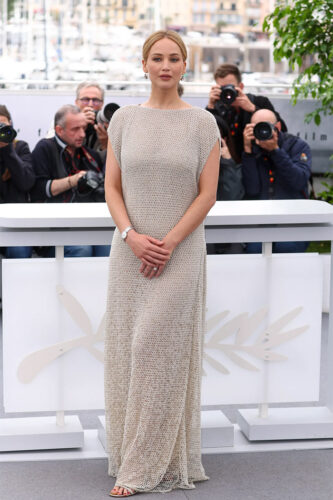 Jennifer wore her top with acid-wash jeans, which she tightened with a black belt. She was also seen sporting a black button-up sweater and black shoes. Jennifer accented her concert ensemble with black sunglasses and a number of friendship bracelets from the audience.
Taylor has always been a favorite of hers.  Jennifer is well-known for photobombing the "Blank Space" singer's 2014 Golden Globes photo.
The actress has praised Taylor in multiple interviews, saying, "She was just so incredible. I'm blushing now just thinking about it." Taylor also wrote a song that appeared in The Hunger Games called "Safe and Sound," which was featured at the end of the film.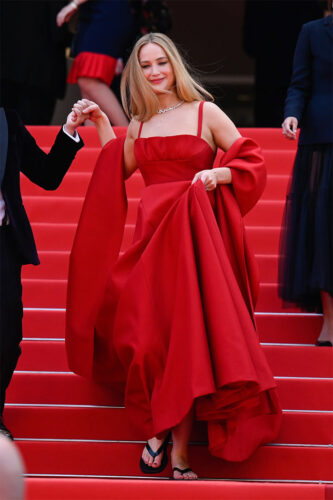 Jennifer wasn't the only celebrity to attend Taylor's concert in Philadelphia. Nicole Kidman and her husband Keith Urban were also present and were seen conversing with Jennifer in the VIP tent. Taylor's supposed new beau was also present during the concert.
He was seen hanging out with the "Style" singer's dad, suggesting that things are heating up between the two. One fan hailed "the power of Taylor Swift" for bringing celebrities like Jennifer Lopez, Nicole Richie, and Blake Lively together in the same stadium along with a big audience of fans.