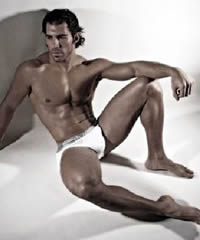 Just as you thrill with the current of passion when you see your girl wearing that sexy lace thong, similarly what lies under your clothes is also important to leave your partner steaming and screaming out for more
This Valentine's Day, while sharing some intimate moments in the arms of your girl, a shirt or a jacket is not all that matters. Much to your discomfort, those whities that you always wear or the boring old boxers may not come to your rescue on the very special night. Read on to know the latest inner wear trends to sizzle up your Valentine's Night with your beloved.
The most popular style always has been boxer shorts which are not only loose and comfortable but also provide you with added room and air. You wouldn't feel suffocated when your girl needs you in her arms. However, boxer shorts do not look good if you are going to wear tight denims, and may give a stuffy look. Nevertheless, boxer shorts are one of the best styles of men's inner wear and would suit slim, athletic and muscular guys.
However, if you are looking for a change and you would not want to wear the same old boxer shorts on Valentine's Day, you could always experiment with other styles. Boxer briefs are more sensual and give a better support while covering a large part of your body. The best part about boxer briefs is that they have the modesty of boxer shorts, sensuality and support of briefs, and also avoid the stuffed look boxer shorts give.
Classic briefs are popular with many guys and you would get many styles in them. Briefs look good on athletic and muscular guys and do not look good on very thin guys. They come in various styles and you could choose the ones that accentuate your body.
Bikinis are the stuff that most men do not dare to wear. If you do not have the body to carry them, just avoid this piece of clothing. Bikinis can be worn only if a person has a muscular and chiseled body. If you have such a body, well you wouldn't be reading these tips anyway. Bikinis can be worn by guys with the best body and boxer shorts can be worn by practically anyone who is muscular or athletic or slim.
If you are fat and out of shape, I suggest you wear Long johns, however hot and suffocated you may feel. It however is a colossal tragedy to be wearing Long johns on Valentine's night.
This Valentine's day get rid of those centuries old boxers that you have been wearing and spark up your intimate stuff with some sexy and sensual underwear, after all it's not only the women who needs to look good.