Are boys going to wear a suit next fall? Yes, according to the international retailers who attended Milan Men's Fashion Week, which closed with the Gucci show on Tuesday. A more sartorial look was one of the major highlights of the week, with brands taking a significant step back from a more street-centric aesthetic. In fact, there was hardly any streetwear in sight.
"Leaving behind a street-focused period, we have entered a new phase where the idea of dressing up properly is taking center stage," said Tsum men's fashion director Riccardo Tortato. "Also those brands which are more fashion-oriented are rediscovering their more sophisticated roots."
However, the new elegance portrayed on the catwalks won't lead to a swing back to the same ol' traditional tailoring — instead, brands reinterpreted it in a variety of new, more modern ways, as seen for example at Prada and Fendi.
The overall rediscovery of polished elegance influenced all product categories, including outerwear, where a more luxurious take on down jackets was juxtaposed to a revamp of classic designs, such as double-breasted coats and Loden styles, as well as accessories. Indeed, sneakers almost disappeared from runway collections, replaced by chunky boots heavily influenced by Daniel Lee's designs for Bottega Veneta.
Perhaps it is the toxic mood of the world, but most designers seem to be focusing on the concept of love," noticed Moda Operandi men's fashion director Josh Peskowitz, putting the accent on the delicate, graceful and poetic feel that many designers injected into their collections, from Kean Etro, who channeled a romantic, languid mood, to Massimo Alba and Marco De Vincenzo, a new entry at Milan Men's Fashion Week. Gucci's Alessandro Michele pushed the more romantic look the furthest with a collection that played on the concept of childhood and joy.
With sustainability still at the center of the fashion conversation, designers focused on natural, textured fabrics with a cozy feel, including corduroy, which stole the spotlight this season.
Other relevant trends at Milan Men's Fashion Week included chunky knits with graphic patterns, outerwear cut in generous proportions, pleated pants, plaid patterns, revisited military uniforms, as well as Seventies autumnal, warm colors.
Here is what retailers had to say about Milan's offering:
Roopal Patel, Saks Fifth Avenue fashion director: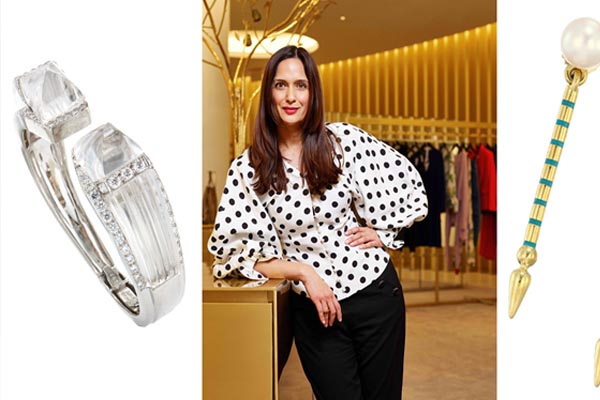 FAVORITE COLLECTIONS: Fendi's modern take on the classic fall wardrobe in shearling, cashmere, flannel and pinstripes felt directional and fresh. The collaboration pieces with Anrealage's Kunihiko Morinaga were a standout. Prada's equestrian, aristocratic-cool collection has a play on proportion with a new spin on the Nineties. The boxy jacket, skinny knits and the sustainable re-nylon accessories in punchy colors are a must for the season. Alessandro Sartori's commitment to sustainable fashion and moving Zegna into the future with a no-waste approach is a sign of the times. He continues to deliver precision-cut tailoring with modern updates and the right amount of edge. Brunello Cucinelli never disappoints. His take on "preppy chic" uses corduroy throughout the collection and mixes in luxe fabrics including madras plaids and cashmere. This style has all the essentials for his core customer. The sartorial masters Kiton and Isaia are all exploring new takes on the classic suit and how to modernize them.
BEST VENUE: Prada's double piazza setting, designed by Rem Koolhaus, was the perfect venue to showcase the collection.
TOP TRENDS: "Sustainability" has been the buzz word in many of the collections we have seen this week. Prada, Zegna and Santoni incorporated sustainability into their collections, to name a few. Statement outerwear including shearlings, puffers, vests and quilted coats were on every runway. It is the perfect statement to top off a fall look. A wide range of modern-day suiting dominated the runways and showrooms. There has been so much corduroy on the runways and in the showrooms: It is the foundation fabric for fall! From paper-thin cord to wale cord, there is a weight for every style. We also saw a lot of classic boots like hiking boots, distressed boots and the gum-sole boot.
TALENT SCOUTING: A-Cold-Wall is a brand on the rise.
WHAT ARE YOU SAYING GOODBYE TO?: Casual streetwear. We're seeing more dressed-up, luxe looks for this season.
Justin Berkowitz, Bloomingdale's men's fashion director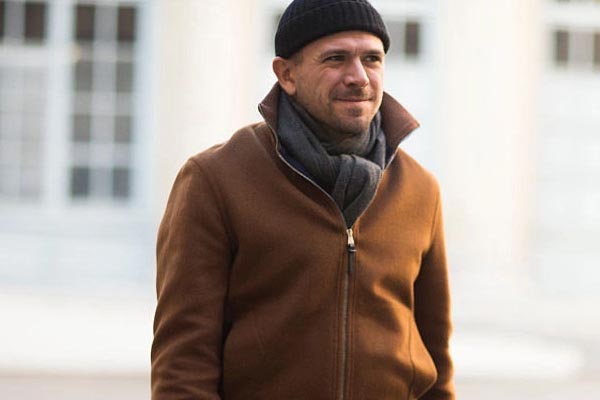 FAVORITE COLLECTIONS: As we have witnessed shows and ventured to showrooms this week, one phrase continues to pop in my head: elegant ease. We have told men that it is now appropriate to wear track suits to the workplace, so how do we elevate that look without sacrificing the comfort? In a word, through softness. More specifically, roomy topcoats, carrot-shaped pants, controlled volumes in tailoring, and lofty knits are the key components of this mode of dress. The best collections of the week showed versions of the idea in different ways for different customers: from Prada's drop shoulder tweed coats, stellar graphic sweaters, and printed silk pajamas to Zegna's focus on volume in Loden coats and the new take on the DB to Massimo Alba's stunning coats in controlled volumes and soft touch knits in an excellently executed color palette.
BEST VENUE: I was particularly taken by La Rotanda Della Besana, the location of the Ferragamo show, on Sunday morning. Its simplicity was stunningly beautiful.
TOP TRENDS: Color palette is a big focus this week: we're seeing a lot in the camel, brown, orange, rust, and burgundy family. Seventies colors with a modernized aesthetic. Shearling, corduroy, and high texture knits are another key trend: that softness I mentioned before is not only comfortable, but comforting, in times of certain unrest in the world. And it's been brewing for a while, but if there's one short jacket silhouette this season that feels right, it's the chore jacket. Workwear in general was a part of an undercurrent in many shows. And finally, we have seen tailoring return to the runways in force this season. Updated with shifts toward softness and tweaked volumes, a more formal sensibility (while still focused on comfort) is upon us.
TALENT SCOUTING: While the shows may have been in London, the introduction of the London Showrooms by the partnership of the British Fashion Council and the Camera Della Moda was a great addition to the Milan calendar. I was particularly taken with Nicholas Daley's collection — a rising talent to watch.
MUST-HAVE ITEM: A piece of wool outerwear with a little volume.
Josh Peskowitz, Moda Operandi men's wear fashion director: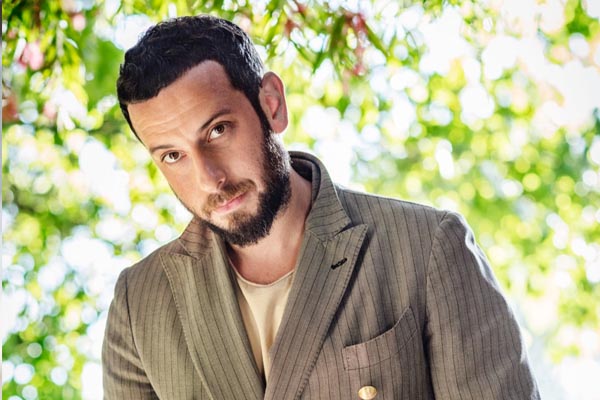 FAVORITE COLLECTIONS: Massimo Alba, Etro, Missoni and Prada.
BEST VENUE: For me, it was Marni. Entering through a neon tunnel into a slow-motion rave performance was the most emotionally jarring show of the week.
TOP TRENDS: Mixing technical fabrics and shapes with tailored silhouettes. Strong use of embroidering and patterns ranging from North African to Victorian botanicals. Corduroy and velvet in autumnal and jewel tones. Also of note, plaid is back!
MUST-HAVE ITEM: Plaid or tartan overcoat and a chunky soled boot.
WHAT ARE YOU SAYING GOODBYE TO? Big logos were nowhere to be seen.
Riccardo Tortato, Tsum men's fashion director: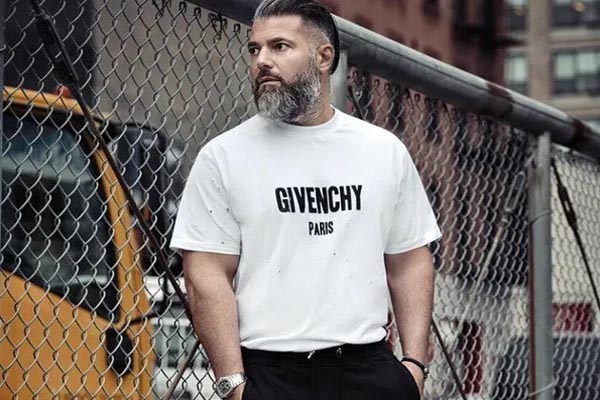 FAVORITE COLLECTIONS: Ermenegildo Zegna Couture, Brunello Cucinelli and Santoni.
BEST VENUE: Prada
TOP TRENDS: The biggest trend is high quality for both more traditional labels and fashion trendy brands.
MUST-HAVE ITEM: A bomber layered on a sport blazer. I also think that a down jacket, more luxury like Kiton's suede one or eye-catching like those at Moncler, is a must-have in every man's wardrobe.
WHAT ARE YOU SAYING GOODBYE TO? Streetwear, there was no trace of that on the catwalks. However, since streetwear is deeply linked to the idea of dressing up in a comfortable way, I think it will never really disappear. Men got used to wearing a suit with sneakers and I think we got to a point of no return in that sense.
Bruce Pask, Bergdorf Goodman men's fashion director: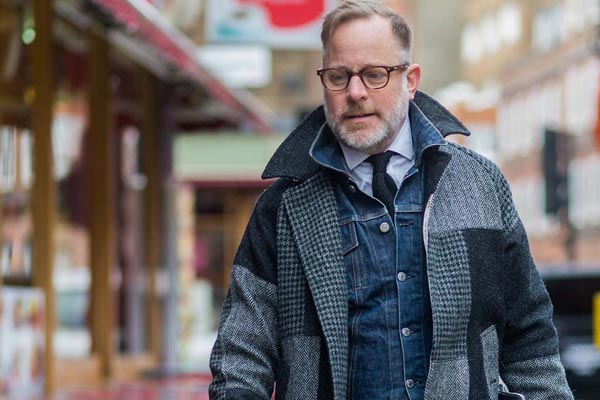 FAVORITE COLLECTIONS: I thought the Alexander McQueen collection was stunning and they have hit upon a great formula for presenting their very ornately crafted pieces. Their static environmental presentations, with models, enlarged look book photos, and live music are the perfect way to highlight the craftsmanship of the sartorially driven clothing. This was a truly memorable collection. I was really taken with the Prada collection and its clever nod to things equestrian. Great slightly slouchy outerwear and jackets, English-inspired tartans and plaids, great graphic knitwear pieces and those amazing riding-inspired boots. I really enjoyed a few showroom presentations around town. Massimo Alba, who has received great notoriety recently for the corduroy suit that Daniel Craig will be sporting in the next 007 film, always shows the softer side of men's wear in his appropriately inspiring, verdant studio. The collection is beautifully crafted, with great color and rich texture and softly constructed pieces you won't want to take off. Ralph Lauren is celebrating the 25th anniversary of Purple Label and presented an appropriately celebratory collection at their Palazzo. Tom Ford gave a look at his California-inspired collection with vivid, sun-soaked colors and fluid tailoring that evoked the West Coast lifestyle.
BEST VENUE: I found the Ermenegildo Zegna Couture show setting really beautiful and inspiring, with sculptor Anne Patterson's installation of fabric ribbons a compelling and thoughtful way to create a runway. I also loved Rem Koolhas' OMA studio interpretation of the traditional horse-riding heroic public square sculpture [at Prada]. It made for an intriguing show and a great, kinetic finale.
TOP TRENDS: Overall, we are continuing to see a more polished take on men's wear, with great new interpretations of wardrobe staples. Tailoring is continuing to regain relevance and importance in the designer collection landscape, with great statement outerwear and sartorially driven looks. New takes on traditionally English fabrications are usually a staple for the fall seasons, and this one is no different, with great Donegal tweeds and tartans seen regularly, but the glen plaid seemed to dominate and looked fresh in both subtle and contrasting color combinations. It's been a very big boot season, with rather aggressive soles giving a new look to the genre. There were great versions from Prada — its show was filled with them — Fendi with its branded sole statement, and Bottega Veneta. Corduroy is again the fabric of the season, pervasive in most collections, from wider wales in outerwear and trousers, casual tailoring and sport jackets in mid-wale, especially in interesting earthy colors, and shirting in soft pinwale cottons. We saw beautiful versions at Massimo Alba, Ermenegildo Zegna, Prada. Winter white was seen a lot and it can seem very editorial given its seeming fragility, but where it felt easiest and most relevant was in trousers and denim styles where it gave the more rich fall palette a refreshing pop. White denim, cotton, cord — all were great fabrics seen in pale ivory tones.