Thanks to the popularity of our Street Style Essentials and Classic and Timeless Essentials lists, we decided to expand the series further and cover a few more popular style aesthetics — and this week,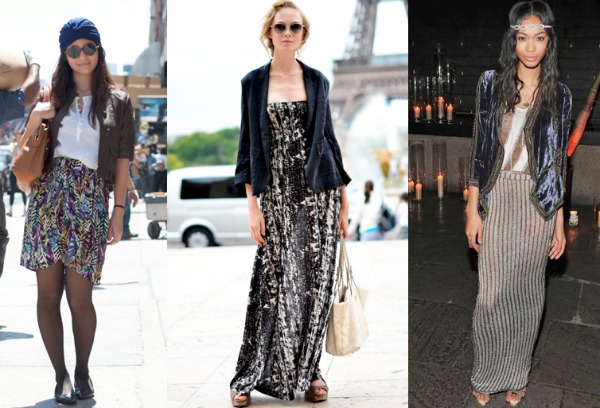 We made a list for all you boho gals!Even if you just consider yourself a "boho lite" or just slightly whimsical dresser, this list provides a great base foundation for your look – a few essential pieces you need to maximize your wardrobe's versatility. It's just a starting point and, of course, your wardrobe will differ depending on your own personal style. When you finish reading, be sure to leave a comment and let us know what items you have, which ones we may have forgotten, and your favorite ways to style these pieces!
1. A Simple Maxi Skirt: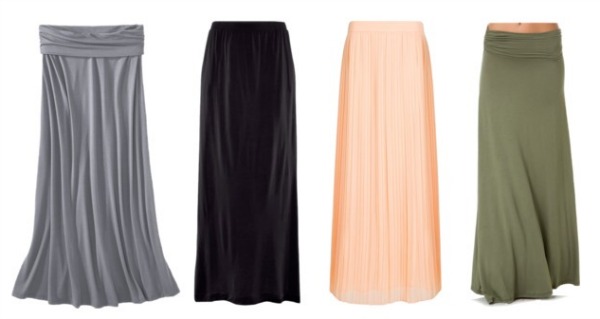 A great maxi skirt will be a piece that you turn to over and over again when crafting cool bohemian outfits. The best ones are simple, solid-colored, and not too poofy as they are the easiest to build outfits from.
Wear a simple maxi skirt with a graphic t-shirt and a versatile vest. Finish with gladiator sandals and a top knot.

For a quick and comfortable outdoor ensemble, wear a maxi skirt with a solid-colored v-neck and a floppy sun hat.

Try wearing one with a button-down flannel or chambray top. Complete the look with canvas sneakers and bright lipstick.
2. Neutral-Colored Ankle Boots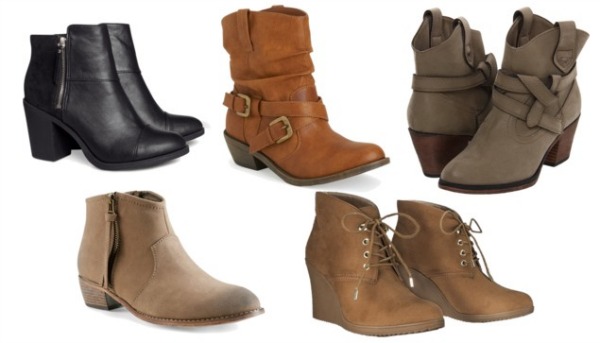 Slouchy, distressed booties seem to be boho girls Mary-Kate Olsen and Vanessa Hudgens' staples. I prefer styles that are loose around the ankles, so they're perfect for wearing with both shorter skirts and tucking into skinny jeans. It's up to you whether you want a heel or not, but make sure the heel isn't too high or skinny so your boots will stay comfortable while watching concerts or walking to class.
Here are some of my favorite ways to wear ankle boots:
Wear ankle boots with skinny jeans, a loose knit sweater, and a hippie headpiece for a look that's ideal for class or a casual date.
Ankle boots look awesome with dresses and skirts! Go for more fitted shoes when wearing maxi skirts, but the shorter the skirt, the clunkier you can make your shoes!

I'm crazy about the fringed suede style ankle boots I've been seeing so much of. Those would look fab with a hi-lo skirt and a bold statement necklace.
3. Chic Headwraps and Hairbands: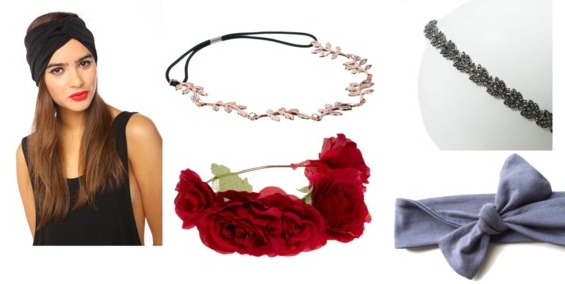 Hippie babe Nicole Richie might not have invented the headwrap, but she certainly helped boost its popularity! I started out wearing thin hippie headbands, but have now graduated to bolder cloth styles. Bonus points for those of you bold enough to try a flower crown. You can find tons of cheap pieces at Forever 21 and Urban Outfitters!
Here are a few fun ways to wear them:
Thinnish, elastic hippie headbands look great across your forehead, but I prefer to wear them back an inch or two past my hairline, almost like a halo. This is also a good way to wear a headwrap if the elastic in it is too tight to comfortably wear across your forehead. Cloth styles look great like this too!

 Hairbands are a great way to add glamour and fashion to a bad-hair-day ponytail.

Turbands are one of my favorite trends right now. Strangely though, I've found that they look best with curly, wavy, or textured hair rather than my natural pin-straight state. Try spritzing with salt spray and scrunching, or curling large sections before wearing.
4. A Printed Maxi Dress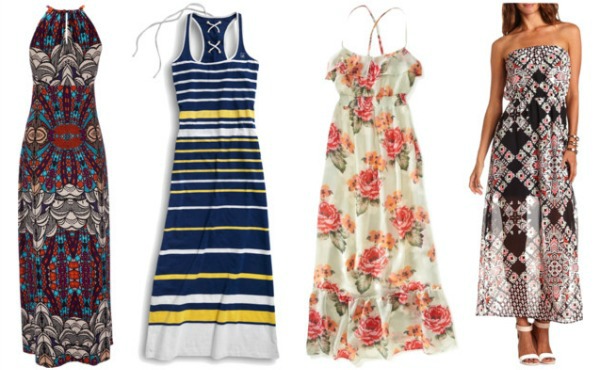 We all owe a huge "thank you" to Rachel Zoe for making printed maxi dresses such a hot item. Look for geometric or nature-inspired prints for extra bonus points!
Wear a printed maxi with chunky jewelry and wedge sandals for a perfect date night look.

Try a  denim vest with a printed maxi to make it a bit more casual.

Add a distressed sweater to turn the dress into a skirt. Finish with ankle boots.
5. Gladiator Sandals: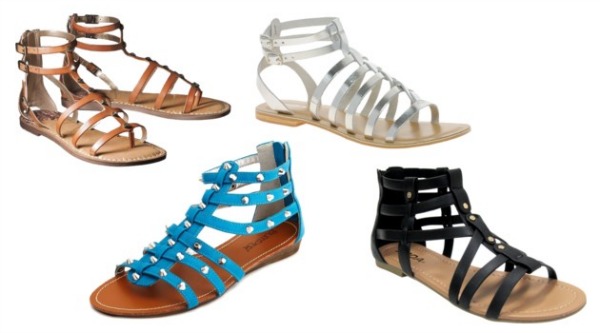 Gladiator sandals are truly a godsend. They're the perfect answer to the flip flop dilemma – they're summery and light, yet they still look polished and fashionable.
I prefer my gladiators to stop right before the ankle (probably because I'm pretty short), but knee-high gladiators are a bold and fabulous look perfect for an outdoor concert or festival.

Look for styles that are easy to slip on and off for maximum versatility. There's nothing more annoying than a pair of shoes that take five minutes to get on and off!

High heel gladiators look badass with dresses, skirts, or even skinny jeans.
6. Knit Cardigans and Sweaters

Cardigans and sweaters are a staple for any aesthetic, but for a bohemian flair, opt for lacy-knit, somewhat see-through versions. They make great layering pieces, and are light enough to wear during the fall, winter, and spring. The other awesome thing about this item is that you can find a great version at almost any one of your favorite retailers.
Here's a few ways I like to wear open-knit sweaters and cardigans:
For a fast and easy outfit that would make Marianne Faithfull jealous, try wearing a tank top underneath an oversized crocheted sweater, along with a pair of  bell bottoms and a high-heeled pair of clogs. Wear with a  hippie headband and a  cross-body bag.

Try wearing a cardigan or sweater over a chambray button down for a chic, layered look. Pair with corduroys or skinny cargo pants, and cute  ankle boots.

Wear a lacy-knit cardigan over a short floral dress and belt the whole thing around your waist to pull the outfit together. Finish with a oversized scarf, knee-high boots, opaque tights, and legwarmers or knee-high socks for extra oomph!
7. A Floppy Brimmed Hat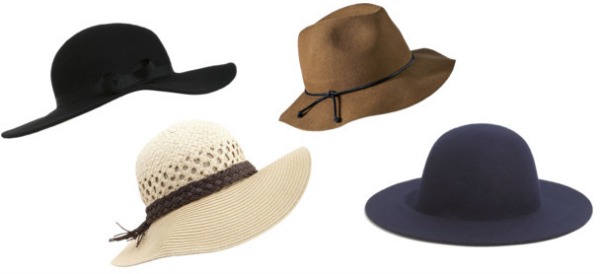 Don't splurge on a floppy straw sun hat – I've found that expensive versions don't hold their shape much better than the inexpensive ones you can find at Forever 21. This way, you can afford to buy a new one every season.
P.S.: felt versions are awesome for cold weather seasons!
A simple straw sun hat paired with a sundress,  sandals, and  big sunglasses is the perfect summer outfit for fairs, outdoor concerts, picnics, and more.

A floppy brimmed felt hat add the perfect gypsy flair to any fall or winter outfit. Take a tip from Vanessa Hudgens and pair one with high-waisted skinny jeans, wedges, a cropped top, and an open button-down shirt.

Throw one on with a pair of boyfriend jeans, a fitted v-neck, a  huge scarf, and ballet flats and call it a day.
8. Tunic T-Shirts and Blouses

Tunic tops are perhaps the first thing that comes to mind when someone thinks of bohemian style. Peasant tops aren't at the peak of their popularity anymore, but are still regarded a staple for girls with earthy styles. Embroidered tops are great for this also! Try checking at any vintage or retro stores in your area for whimsical originals.
If wrinkled cotton or embroidery is too loud for your taste, go for a basic t-shirt type tunic. Add a vest and skinny jeans and you're ready to go!

A tunic top will forever look awesome with a pair of  flared jeans, platform sandals, and  earthy jewelry.

Wear a tunic with leggings, a  scarf, and a pair of knee high boots.
9. Geometric, Eye-Catching Prints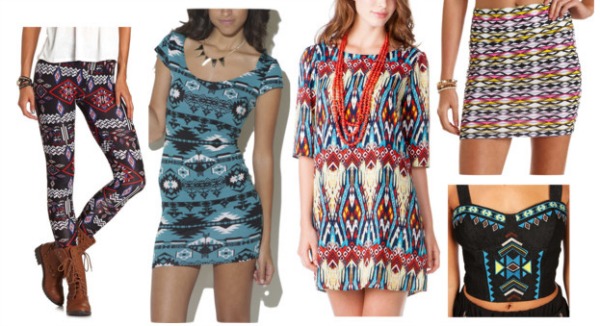 To help add a free-spirited, worldly edge to your wardrobe, nothing can replace the rich look of a bold, geometric printed item. They come in all items and price points, so think carefully about what piece you'll wear most and how much you're willing to spend before taking the plunge!
 One of my favorite items in my closet is a BB Dakota thick wool coat covered with geometric patterns. It looks so warm and cozy paired with skinny jeans,  ankle boots, and a hat.

 Multicolored fitted mini skirts are back with a vengeance, and I loves ones with chevrons and parallelograms on them. Tuck a chambray shirt into one, and wear with  gladiator sandals.

 Take a tip from Nicole Richie and wear a full and flowy printed maxi dress. It will look fantastic with platform sandals and  chunky wood bangles.
10. Chunky. Earthy Jewelry: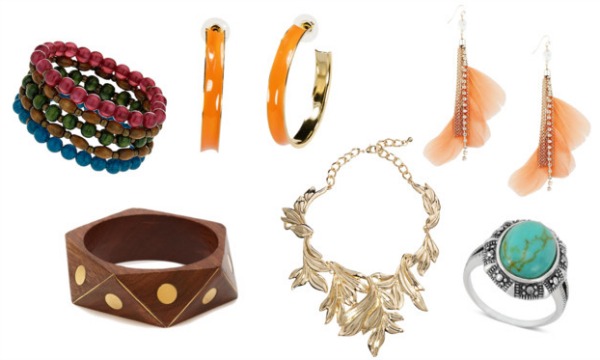 When it comes to bohemian jewelry, the more unique, the better. Look for original finds at the flea market, incense stores, Etsy, or even make some of your own! The key is to find pieces made from natural elements like wood, coral, turquoise, feathers, or suede.
Boho babe Lisa Bonet is a big fan of dangly earrings. My favorites styles are oversized hoops and long hanging feathers.

 A statement necklace is another great layering piece that easily adds style to an otherwise bland outfit. Look for intricately beaded styles or ones made from pounded metal and epoxy.

 Wood and metal bangles always look fabulous and will always be in style. Also, look for cool cuffs that rest on your forearm, or even your bicep.
collegefashion