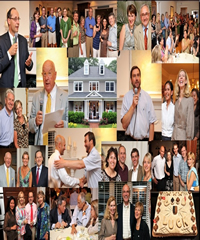 One almost spends as much time at workplace as home. Colleagues have a special relation by being together at workplace and taking work pressure together. This bond is strengthened by the amount of team work and experiencing boss tantrums. But on a serious note this bond can sometimes be really close and you know that when a special colleague leaves you are going to miss them. No more lunches together and no more pep talks regarding work. The best way is to give them a farewell.
Office farewell parties can be very creative. There is so much that you can do for your colleague's farewell because of your memories together. Firstly it could be a surprise when your colleague is least expecting it to come. A little slide show can be made for the office farewell party with the colleague's pictures while working in the office and pictures taken with other colleagues. A present is always a sweet gesture and the present will always remind them of their workplace. Choosing a present can be slightly tricky at times but you know your colleagues interests and getting them something like that is the best option.
Instead of getting a cake for the office farewell party you can get customized cupcakes with funny things written on them for example a garfeild if your colleague is lazy or a football made on it. Also you can get a big card and let all the other colleagues write their messages to say farewell to a colleague. No matter how old you are you can never get over balloons they just look so pretty and thoughtful. Get a bunch of balloons and tie them with the colleague's chair at the workplace. One can also get them a customized t-shirt and mugs.
Saying farewell to a colleague can me very emotional as well as you become friends also. Take as many photographs as you can because that is what will remind of each other and the wonderful times spent together. Make the office farewell parties as special and fun as you can because a farewell is something you remember for the rest of your life.