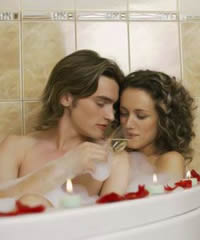 Valentine's Day is not any usual day especially for those in a relationship. People like to celebrate this unique day of love with their beloved one's in a way that can be remember for years. What can you do to boost your relationship on Valentine's Day?
Celebrating Valentine's Day by going to a nice prom, dinner, lunch or a day out with your beloved surely sounds good but Valentine's Day gifts can significantly boost your relationship. A wisely chosen gift can take your relationship to a next level and make your Valentine feel really special.
If you are lost in what to choose as a Valentine's Gift for your soul mate then here are some superb Valentine's Day ideas for you. You can amend these ideas as per your budget, his/her choice, your preference and any other situation that may arise. Anyhow these guidelines can surely get you to some point.
Every being is unique, their likings and nature are diverse so you need to explore your lover and be passionate to come up with most suitable ideas to make this 2011 Valentine Day the best one. Besides a suitable Valentine's Day gift do look after the ambiance. Mostly people do not this thing under consideration but decoration can get you magical results.
Even if your Valentine is not very much focused, the efforts in terms of decoration through candles, flowers and back ground romantic music can grasp his/her attention. A rose gifted in such an ambiance would surely be effective than a ring presented in un-romantic noisy crowded bus. Romantic words in a relationship never lose their worth no matter how many times you repeat them. Your Valentine's Day gift will be ten-fold if wrapped in serious love feelings and accompanied by romantic words.
What you need to keep in consideration while finalizing a gift for your Valentine?
The most important is your budget. You should not go out of your budget to get your Valentine something rather something chosen as per his/her preference and presented in style can enthrall your partner. For him the Valentine Gift can be anything like cologne, Valentine Day cards, Photo frames, chocolates or some membership. If you want something special then cook a special meal for two and make up the ambiance. Get into your best outfit (a sexy one). Don't forget to include his favorite dish in the menu.
As far as she is concerned the most known Valentine's Day gift is jewelry. Do they like anything more than that? Well I don't think so. But other things may include a trip to her favorite place, long romantic drive, a well organized prom, super hot dress, chocolates or scrap book accompanied with your good memories, romantic times and photos.
Valentine's Day ideas can magically strengthen your relationship and make it everlasting.