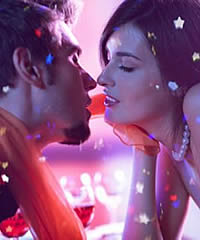 Valentine's Day is just weeks away and you'll be thinking for some cute little surprises for your girl. Well, let's forget about cute and comfy teddy bears and a box of chocolate this Valentine's Day and make things a little more saucy and kinky.
We got some juiciest, ultimate sensational ideas to sizzle up your love life this Valentine's Day for this is one of the best days to fill those cravelicious gaps in relationships. Read on to enjoy your Valentine's Day with these absolutely hot sensational Valentine's Day ideas.
Prolonged Foreplay
Indulge into a completely teasing session this Valentine's Day, tease her, warm her up, make her feel special and ultimately have her so turned on that she literally start screaming for it. Sometimes the bitter sweet charm of anticipation is hotter than climax, and don't worry you'll enjoy the sounds of craving and pleasure simultaneously. Just touch, kiss, bite, tease, lick and rub all night long.
Warm Bath
Spend the Valentine's Night warming up in a hot bath tub, but it's very important to make the right ambiance with candle lights, scented oils, rose petals, and some light romantic music for two of you to enjoy and relax into a complete cozy love-filled environment.
Massage Oils
Give her a romantic and relaxing massage with some massage oils with flavors such as banana, almond or chocolate; slowly rub her body as she delights herself into a pleasure-filled fantasy.
New Location
Why don't try a new adventurous location this Valentine's Day, may be in the woods in dark, you can even imagine yourself as lost lovers! Take your sex life to new heights on Valentine's Day and she'll walk into the office Monday morning with a shine on her face.
Blindfold her
Blindfold her and let her fly into a completely different love-filled world. Feed her exotic fruits such as cherry, chocolate dipped strawberries, apple or blue barriers and increase her desire with food, indulge her into a yummy fruity pleasure and make her desire come true at the end!
Tie her up
Women love it when you wildly come on top with a fierce desire. She wants you to savagely run your fingers through her hair and to feel the weight of your body. Begin by tying her hands to the bedpost with a scarf and then do whatever you want to do with her! Just be wild and aggressive and she'll ahh love it! Plus you can run also tease her in the beginning, run your fingers teasingly through her body and remember not to leave a singly body part. Or you can also use a feather to make her go crazy!
Buy Her Lingerie
This Valentine's Day buy her sexy, lacy satin lingerie and once she puts it on for you, tear it off and do your thing!
Chocolates
Don't you think something is still missing? Yes, you are right for no Valentine's Day can be truly completed if it is empty of chocolates. Try melting chocolate on each other and lick it with your tongue. What happens when the scrumptious aroma of chocolate gets blended with lover's fragrance, Ultimate pleasure!
So this Valentine's Day fly off with your beloved to a place called Ultimate Pleasure with our sensual ideas!