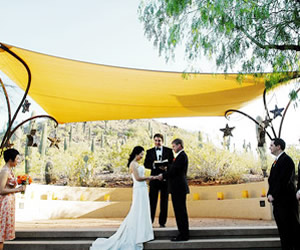 Wedding is an event when two individuals promise to live with each other through thick and thin and love each other for the rest of their lives. It is the one time occasion which becomes the most memorable event for both individuals for their entire lives. To make it more exceptional everybody tries to celebrate such occasion at different exotic destinations with their loved ones. Beaches are considered as the most treasured places for wedding. However this idea is quite an old one and hundreds of people have already celebrated their weddings on beaches. If you are planning your wedding to some exotic and never tried place then Desert wedding is the wedding you are looking for.
Desert wedding is in itself becomes an extraordinary event. Your bride will become the happiest woman when she will find out about your desert wedding idea. For desert wedding you need your all friends and family members to participate and make this occasion full of more wonders and colors. With all the banners, decorations and flowers you can create a desert wedding fiesta.
The best portion of desert wedding is open space you get to decorate. In decoration for desert wedding you can come up with diverse ideas. For banners the best idea is to get inspiration from Mexican banners and string them around the desert place. With these banners you can hang flamboyant self-made ornaments with the help of color papers and card boards and other stuff like this. This was all for the surrounding of desert wedding. Now for the inside you can first of all carpet the desert wedding or left the floor as it is. It is better to keep the floor as it is for desert wedding though you can place small mats under the furniture.
For desert wedding on table place colorful Moroccan lanterns and along with it place some long white candles and flowers in the middle which will make your table vibrant and attractive. In the same way cover your seats colorful cloth. All weddings are incomplete without music. In desert wedding for best music you can hire a band of mariachis. This will keep hearing sense of your guests fresh. Now coming towards the food, like everything food should also be colorful. You can fill your guest's bellies with horchata, churros and some colorful fruits and vegetables. Don't forget margarita for drinks in desert wedding.
Lastly the dressing, dressing should be also according to desert wedding. White is the best color for desert wedding. It goes with the surrounding. It is your choice whether you want to wear a white trouser with white loose shirt or you want to look classy by wearing white sophisticatedly fitted suit for your desert wedding.