The High School Musical star wed musician Christopher French on Monday evening in a secret ceremony, and shared the news on her Instagram account the following day. 'Best day of my life!' the 29-year-old blonde actress wrote on her page. 'Introducing Mr and Mrs French Sept 8, 2014.'
[contentblock id=1 img=adsense.png]
Tisdale shared a wedding photo for her followers, followed by one with her bridesmaids including Vanessa Hudgens. The looker wore a long, white wedding gown with capped sleeves and a cinched waist. Her husband, who is the lead singer of Annie Automatic, looked dapper in a black suit and tie.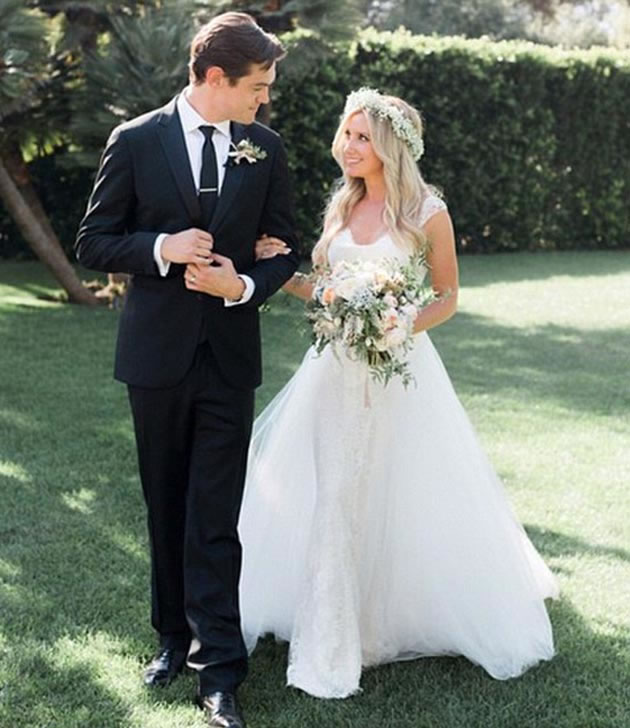 Ashley had her blonde locks down and slightly curled with a crown of flowers around her head. In her hand was a bouquet of pink and white roses. The actress's High School Musical co-star wasn't the only familiar face out of her six bridesmaids.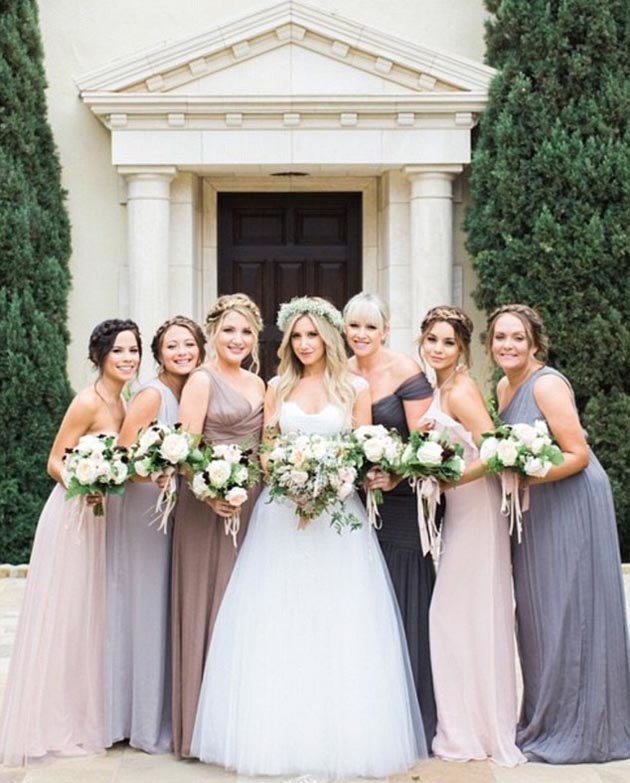 Ashley's sister Jennifer and actress friends Kim Hidalgo and Shelley Buckner were also part of the bridal party. The bridesmaids wore stunning long dresses in pinks, greys and taupes (although Jennifer, who presumably was maid of honour, wore black) and they had their hair styled in braided updos with a couple of loose tendrils.
[contentblock id=2 img=adsense.png]
Along with the group photo, Ashley shared: 'Thanks to @nikkilee901 @msmorganashley @tauni901 @karanmitchellmua @dickycollins for making us all look beautiful.' According to RadarOnline, the two wed at a private residence in Santa Barbara.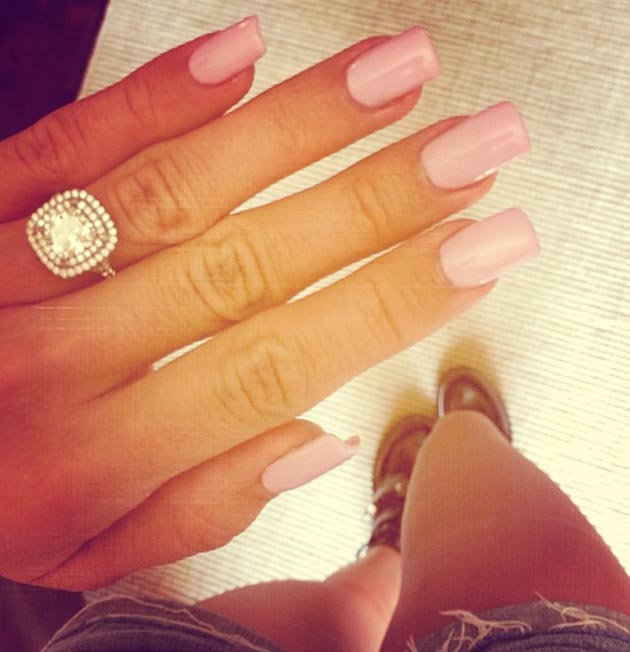 'All the guests went to a secret location and shuttled to the estate,' the source said. 'Security was very tight. They took everyone's cell phones and electronics.
[contentblock id=3 img=gcb.png]
The two became engaged in August 2013 in NYC. 'He had been planning on it for awhile,' a source told UsWeekly at the time. 'She knew it was coming but she is so happy!'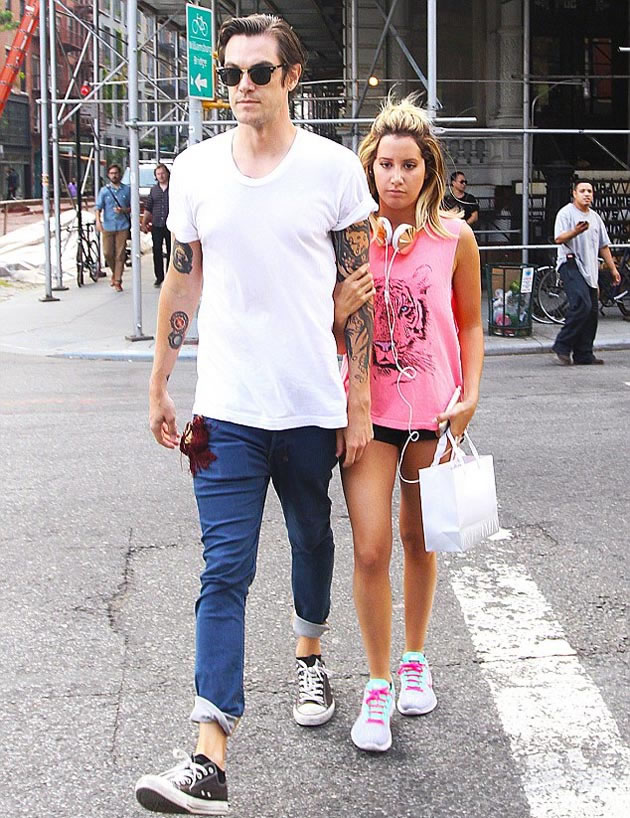 'We're on top of the world,' Ashley said after her engagement. Soon after she showed off her ring at the InStyle Summer Soiree in West Hollywood. The two met in 2012 through mutual friends. 'I think from the moment that him and I met, I just knew it,' the beauty said in 2013. 'I was like, "Ok this is the guy," and he knew the same thing.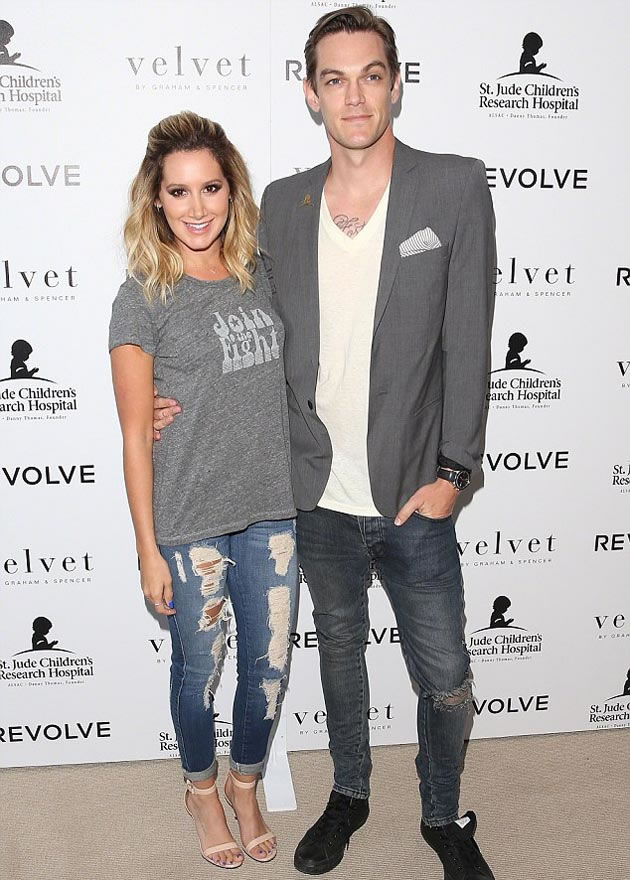 It doesn't get any better. I just can't explain it.' Her bachelorette party was in Miami in May. Vanessa commented on the couple earlier this year: 'I think they just inspire each other. They're just great, I love him for her!' Ashley can next be seen in the TV show Buzzy's which will debut on TBS in 2015.