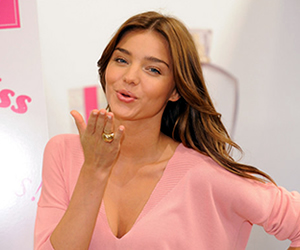 Models are not supernatural. They are also regular girls. If you want to date a model then treat her like a regular girl not a model and be different from others. Don't sound too interested and don't try to impress her.
Models are the most perfect combination of beauty and physic. We see them everywhere- on billboards, newspapers advertisements, television commercials, magazine covers and on ramps. It's a rare possibility that a guy never fanaticized about dating a model. But just as appealing the thought of being perfect is it is also scary and worth panicking.  No matter how many times a guy has dreamt of dating a model, a guy always panics when a girl tells him that she is a model.  This piece of information is no more a point to worry. If you follow a few simple tips, you can date a model.
Don't sound too impressed when she tells that she is a model. Even though she is a model, she is still a regular girl. You have to talk to the "girl" not the "model".
Models have numerous fans so don't act like one. When dating, every girl wants a man who understands what she actually is. So don't worship her or be too nice to her. Think of her as a person and communicate with her on that level.
If she told you that she's a model it means that she is trying to impress you. There are very few chances that it just slipped out of her tongue. If this is true that she is trying to impress you then chances are that she likes you.
Talk about interesting things but don't sound too interested. This will make you different from other boys. Most of the time when girls tell guys that they are models they try to impress them and sound too interested. If you be a bit different this might actually gather her attention.
Don't concentrate on her modeling career. Ask her what else she does. This will tell her that you are more interested in knowing her better than just hanging out with a model.
Not all the time you bump into a model. I you really are serious about dating a model then you needs to know where they are. You will have to start attending high profile parties and social events where models come. This does not mean that you start stalking models. No! Simply No! When you do too much research and become too prepared you lose the chances of a conversation being spontaneous.