An unknown 4chan user posted the following statement four years ago today:
"Hillary Clinton will be arrested between 7:45 AM – 8:30 AM EST on Monday – the morning on [sic] Oct 30, 2017."
They followed up an hour later with more information about the plan, predicting "massive riots organized in defiance" and claiming that the national guard would be "activated for duty across most major cities."
Clinton was not arrested at the time—or ever—but these were the first of nearly 5,000 messages posted by a user known as Q, and they inspired the QAnon conspiracy movement.
Former President Donald Trump, the movement's God-Emperor, is no longer in power after four years. Q has been silent for about a year. Q's forecasts have all failed to come true in one way or another. True believers, on the other hand, remain hopeful.
"Happy birthday, Q," a Telegram user called AbsoluteConviction1776 wrote on Thursday. "For your birthday bash this year, can we maybe celebrate with some arrests and the fall of the cabal? Would be great!!!"
The post is signed from "a grateful American patriot."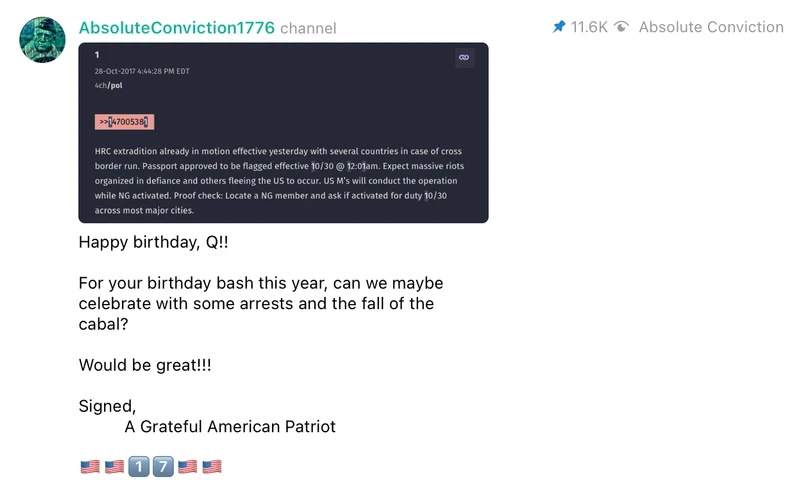 QAnon has evolved completely during the previous four years: It began slowly on 4chan, 8chan, and Reddit before exploding in popularity when it spread to mainstream sites such as YouTube, Twitter, and, most notably, Facebook.
People's attitudes toward QAnon have also shifted substantially. People are no longer dismissing it as a joke or a fringe conspiracy held by a few kooks. It's been labeled a potential domestic terror threat by the FBI, and it's being considered as a major threat to the integrity of American democracy in the aftermath of the Jan. 6 riots.
QAnon has expanded across the globe, not only in the United States.
Despite its deeply U.S.-centric conspiracy, reactions to the birthday message on Telegram came from members in the Netherlands and England, demonstrating the movement's international influence.
QAnon groups have been found in 85 countries, mingling with anti-vaxxer organizations, sovereign citizens, and far-right extremist networks. A QAnon organization was recently accused of kidnapping an 8-year-old girl in France.
The birthday message to Q, which has been published in one of the most prominent QAnon Telegram groups, is a testament to the lasting nature of a conspiracy that has grown out of hand and is soon becoming part of mainstream politics in the United States.
At the QAnon-focused Patriot Double Down conference in Las Vegas this week, more than a half-dozen current US congressmen and contenders for Secretary of State shared a platform with some of the QAnon movement's top QAnon grifters and influencers.
It was disclosed at that gathering that a QAnon influencer has played a key role in the formation of a GOP secretary of state candidate coalition prepared to pursue a series of voter-suppression policies.
And Trump, who has done more than anybody to enable QAnon fester and flourish by neglecting to reject it on multiple occasions, is now assisting QAnon-affiliated candidates in the run-up to the 2022 elections.
And no one has illustrated the rise of the conspiracy and it's extreme mainstreaming more than Ron Watkins. Watkins was the administrator of 8kun (formerly known as 8chan), a far more fringe website where Q began exclusively posting from early 2018.
Watkins aided QAnon's rise as an administrator, refusing to do anything to stop the messages even after QAnon-inspired violence began emerging in 2019. Many people who follow the evolution of QAnon believe that Watkins and his father Jim gained entire control of the Q account shortly after it was relocated to 8chan, and even composed the messages themselves.
On Election Day 2020, however, Watkins emerged from the shadows and into the forefront, announcing his retirement as an 8kun administrator and his new career as a cyber security expert. He has ingratiated himself into the right-wing MAGA community in the year since by peddling false election fraud conspiracies.
Watkins' success has led him to run for Congress, and while his chances of winning are little to none, the fact that he believes he has a shot demonstrates how common QAnon beliefs have become.
The future of the movement is in flux as QAnon mixes with mainstream American politics, and as members of the movement strive to remove the QAnon label due to its negative implications.
However, as the QAnon conference in Las Vegas, this week demonstrated, four years after the first "Q drop," there is still a lot of interest and belief in the QAnon conspiracy theories. The movement has also found a home among the most radical elements of the evangelical community, and with enough time, it may become a mainstream religious movement.
"There is this old adage among folks who study religion that cult plus time equals religion," Ryan Burge, a pastor and an assistant professor of political science at Eastern Illinois University, told VICE News.
"Everything sort of started out as a cult, whether it be Christianity or Judaism or, you know, Scientology. If it hangs around long enough, it will eventually become a religion."