Gabby Petito's parents have demanded that Steven Bertolino, the lawyer of their deceased daughter's fiancé Brian Laundrie, refrain from exploiting Petito's photograph to promote business for his law practice.
"The Petito and Schmidt family are demanding that you remove Gabby Petito's picture from your Yelp page," said Richard B. Stafford, the Petito family's lawyer, in a letter to Bertolino dated September 22.
The Petito family attempted to delete their daughter's picture from Bertolino's Yelp page but were told that only the business owner can add or remove pictures, according to the letter.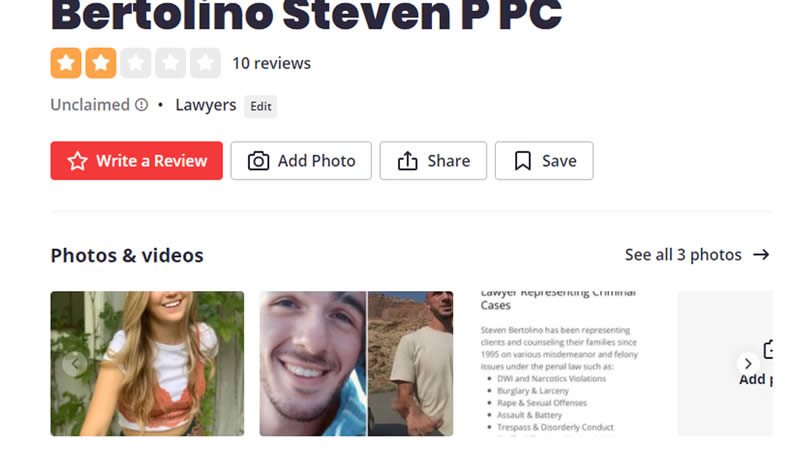 "Furthermore," the letter continued, "the Petito and Schmidt family demand that you cease and desist posting pictures of Gabby Petito to any and all of your social media pages, web pages, or advertisements in an effort to gain business."
The letter said that Stafford would take further action on behalf of the Petito family if the picture was not taken off Bertolino's Yelp page by 2 p.m. local time.
Bertolino responded with a statement that read, "I have never used social media or any other electronic platform for advertising other than maintaining a website. I do not control the internet sites nor the hacks and public that have been overrunning the internet with fake comments and posts."
"I would certainly agree with Mr. Stafford that any such post he is referring to should be removed but advise him that I have no control over that Yelp site," Bertolino added.
According to The Independent, a Yelp spokesperson verified that "the user who uploaded the photo removed it today."
Bertolino's office was approached by Newsweek for comment.
Laundrie's family is represented by Bertolino. Petito's murder inquiry has identified Brian Laundrie as a person of interest. Petito went missing while traveling cross-country with Laundrie.
Laundrie returned home alone from the trip at the beginning of September and was last seen on September 14. Petito's body was discovered five days later.
A major search is underway for Laundrie. His parents informed police that he went hiking in the 24,500-acre Carlton nature reserve near the family's Sarasota County property. Laundrie has not been accused of any crime.
Bertolino stated in a statement last week that Laundrie would not speak to police because "intimate partners are often the first person law enforcement focuses their attention on in cases like this.
As per Newsweek, Bertolino has stated that he knows nothing more about Laundrie's whereabouts.
Late Monday, Laundrie's lawyer canceled a press conference that was scheduled for Tuesday, September 21, at 1:00 p.m. local time. According to the news10 report, he canceled it after speaking with the FBI on Monday evening.
Since exposing himself as Brian Laundrie's lawyer, Bertolino has received over 30 one-star reviews on Google. Prior to representing Laundrie, he had no Google reviews of his law practice.
Bertolino has been practicing law since 1994 in Long Island, New York after getting his Juris Doctor from Hofstra Law, as per his website. His website says he has "a diverse knowledge of many areas of law" including real estate, business, commercial litigation, and criminal cases.