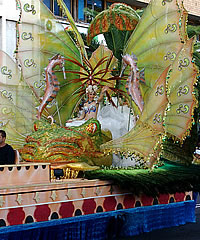 Many colorful festivals are celebrated round the year offering great amusement, all forms of pure entertainment, rich meal and lively parades being a matchless source of joy, peace and pleasure together at one place. So, while counting things to do on your finger tips don't forget these top five colorful festivals to attend in your lifetime that carry an eternal festivity and joy with them.
The Carnival of Rio de Janeiro, Brazil
The greatest and most colorful festival of the world is none other than Carnival of Rio De Janeiro celebrated each year between 13th and 16th of February in Brazil of South Africa. The carnival begins with crowning of the Fat King called King Momo presented with a giant silver and gold key by the city's mayor then the huge celebration starts in each corner, streets, squares, bars, clubs and at all venues. The heart of Brazil, Samba parade along cheerful music and dancing is started then with colorful costumes and creative themes of floats that ends in dawn of last day.
The Carnival of Venice, Italy
Be a part of the carnival of Venice at Piazza San Marco in Italy that begins two weeks before Ash Wednesday and finishes on Fat Tuesday or Mardi Gras. Probably the second biggest and colorful festival to attend on earth Carnival of Venice consists of grand ball, music concerts, dances and other events with elegantly designed costumes and Venetian masks over faces.
The Santa Cruz de Tenerife Carnival, Spain
World renowned celebrations are done in Spain but the gala that the Santa Cruz de Tenerife Carnival offers is irresistible. This festival is celebrated in two parts: the official carnival and the carnival in the street. Revelers come from all over the world to join this mirth on Tenerife's streets and dance with local orchestra's tunes, the Caribbean rhythms, electronic music and the music of the year. The Carnival Queen is selected amongst the parades most beautiful girls and is then royally outfitted.
The Carnival of Berlin, Germany
The most popular colorful festival of Germany is held in Berlin each year to celebrate the diversity of cultures within the city. The Carnival of Berlin offers unique foods, international cuisines, Brazilian drummer music, Congolese singers, samba dancing, Korean cultures and exclusive parades that recognize up to 80 different countries and cultures.
The Carnival of Basel, Switzerland
The biggest colorful festival to be attended in Switzerland is the Carnival of Basel held annually between February and March in Basel containing throwing of confetti as a typical tradition. A group is found wearing holy masks playing calm flutes and over 200 lanterns are painted with illustrations and are paraded through streets accompanied by piccolo players.