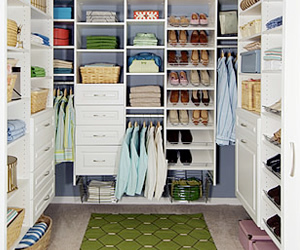 Decluttering, arranging and maintaining a closet seems hectic, unattractive, laborious and donkey work sort of a task, but actually it isn't. Think of a closet organizing project, and you would be least motivated to start!
To convert this laborious errand into a creative and artistic project, we have selected a few closet organizing tips. These closet organizing tips are sure to make you feel creative while managing your closet organizing yourself. Make sure that this DIY project is not but an art! Let's learn!
Plan Before You Leap!
Before getting into the closet organizing practically, you need to plan it first. you can make a bullet line list of step by step decluttering plan which would help you out in your closet organizing project and will save enough time.
Make sure that the time you would invest in this planning would reduce the practical implementation time to at least one third. So, the first among the closet organizing tips is to make a practical and easy to follow plan regarding closet organizing project.
Scrutinize To Sort Out Things Of Use:
Distinguish between the things to be rearranged in the closet again, things to be donated and things to be wasted on spot. This is called scrutinizing and sorting. At this stage our closet organizing tips recommend you to behave generous while discarding things out. Don't overload your closet with a heap of rubbish which might not be of any use for years to come.
Once Sorted, Start Arranging The Closet:
starting to arrange sounds very simple, but this is where your innovative and creative part enters. You must allocate appropriate and adequate compartments, shelves, racks and drawers to your belongings respectively. Consider every inch of your closet to be your real estate. You need to allocate the best suited space for every belonging of yours to be arranged in your closet.
For instance, seasonal changes of outfits. When the winter is over, you need to remove sweaters and other winter clothes and accessories to be put either in the back shelves of your closet or storeroom. Things of great utility need to be placed on open shelves, at an angle that is easily accessible by the user. Things to be stored due to seasonal change must either be removed and put somewhere else or placed in the shelves or drawers which are not easily accessible. The top most cabinets or shelves of your closet would be the perfect fit.
Use Every Corner Of Your Closet Functionally:
This is where your closet organizing skill shows off. The way you utilize every shelf, every drawer, every rack and container.
An ideal closet organizing is the one in which you can find out your desired things even in the dark. If you have to put any effort to locate, your closet organizing isn't good! Our closet organizing tips recommend you to use separators, hooks, and other organizing tools for your help. You can use the hooks at back of doors to hang lingerie in use, belts, and other such things. Similarly you can use separators between different piles of clothes. You should also make use of tags for your convenience.
We hope your closet organizing skills improve after reading this article!