Think back to where you stayed on your last trip. Was it simply a place to rest your head, or did it immerse you in local colour, surround you by wildlife and fire your imagination?
We asked Lonely Planet's authors and editors to nominate the most extraordinary hotels and hostels around the world. Our panel of travel experts whittled them down to 10 breathtaking choices – see which one inspires you to travel in 2014.
1. Mihir Garh Rajasthan, India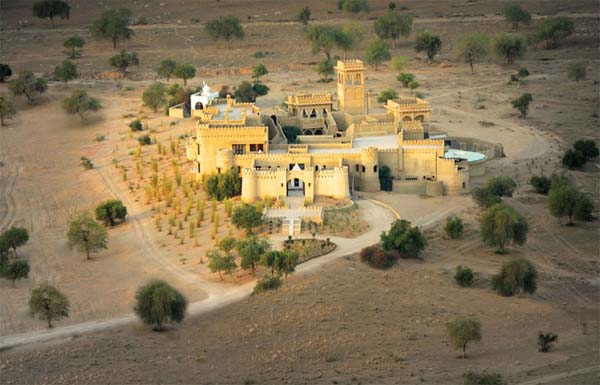 Mihir Garh sits in splendid isolation amid the Thar Desert near Jodhpur. It looks like an enormous sandcastle, a mirage; but there is nothing insubstantial about this 'fort of the sun'. It took 150 masons, artisans and craftsmen two years to build what the owners describe as 'a dream realised'. Certainly, it has the feel of a place where commercial considerations play second fiddle to the unbridled pleasure of creation; hence the decision to have just nine huge – and hugely extravagant – suites. But the luxury isn't as important as the pervasive sense that someone has granted you access to their fantasy world. From fireplaces fashioned from cow dung and clay to equestrian-inspired curtain holders, everything is custom-made.
And how artfully it reflects the landscape: the rounded edges echoing the huts of the Bishnoi, a local tribe; India's national bird fanning a bejewelled tail across a frescoed wall as peacocks shriek in the acacia trees outside; the mural of a Rajasthani beauty mirroring the elegant women in bright, block-printed saris at the roadside… The word 'bespoke' doesn't begin to cover it. "Few hotels are created without compromise; Mihir Garh is a rare example. This is not just a unique place to stay; it's a shrine to the artistic and architectural traditions of Rajasthan in general and Jodhpur in particular." – James Kay
2. Planet Baobab, Gweta, Botswana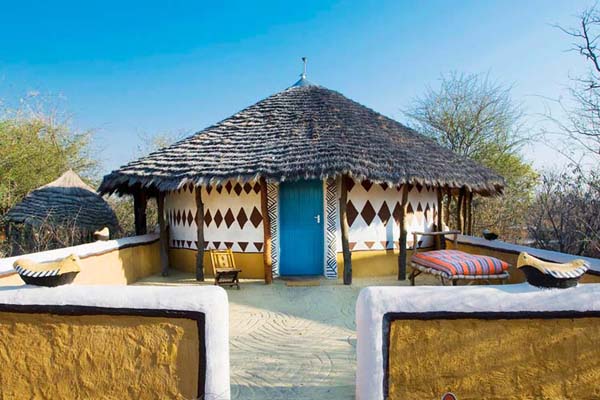 Botswana's Makgadigadi Pan comprises the world's largest network of salt pans – a thirsty, mirage-inducing landscape of flat, shimmering expanses under hard blue skies. Halfway along the sole tarred road through this arid moonscape, a statue of an anteater towers at the dusty verge. It is a surreal sight, and an appropriate signpost for the distinctive Planet Baobab, which is named after the baobab trees overlooking its thatched African huts.
Walkways wind between the impressive baobabs, their hefty trunks and intricate branches atmospherically illuminated at night, to a pool and bar-restaurant deep in the bush. Elephants gather at the neighbouring waterhole alongside more familiar horses, cows and donkeys from a nearby village – all acquire an exotic sheen in the hazy setting of a Kalahari sunset. Planet Baobab also runs some excellent excursions into the pans, including a night under the stars followed by a dawn meeting with meerkats. "I visited Planet Baobab on a two-night side-trip from the Okavango Delta. Seeing lions in that bleached-out landscape was certainly memorable and I loved the lodge's Afro-funk décor." – James Bainbridge
3. Prendiparte B&B, Bologna, Italy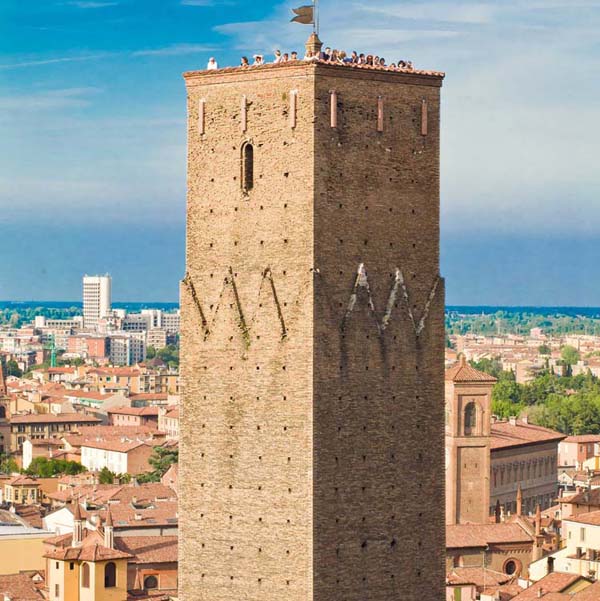 A medieval high-rise turned romantic hideaway, the Torre Prendiparte is unlike anywhere else you'll ever stay. For you don't just get a room here, you get an entire 900-year-old tower. The 60m-high Torre, Bologna's second tallest, is one of about 20 that remain from the city's medieval heyday.  It was originally built as a refuge for the powerful Prendiparte family, but later became a seminary, and in the 1700s served as a religious prison. The living area is on the first two floors and comprises a snug, classically-furnished living room, mezzanine bedroom, and kitchen.
Above this is the former jail where you can still see graffiti left by prisoners on the 2m-thick walls. Further up, a rooftop terrace offers breathtaking views over Bologna's historic skyline. "Like most people, I was pretty bowled over when I visited the Torre. I remember walking up its steep stairs and thinking how amazing it would be to have the whole place to yourself, even for one night." – Duncan Garwood
4. Qasr Al Sarab, United Arab Emirates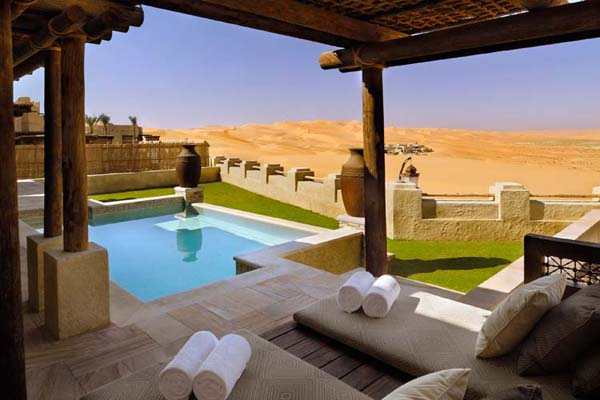 Rising from the shifting sands, Qasr Al Sarab appears like a mirage on the edge of the vast Empty Quarter desert. Outside high crenellated walls echo fortresses of old. Inside rooms continue the dream of Arabian Nights with sumptuous fabrics, carved Islamic designs, woven rugs, wooden doors and metalwork lanterns. The Library's museum-quality artifacts come from a time when the area's few residents were date farmers or Bedouins. Delve into the regional culture further with tastefully-done resort activities. Have your hands painted with henna or learn about the indigenous saluki dog breed, then trek across 300m-high dunes on camelback or 'dune-bash' down them in a 4WD.
Afterwards, dinner is a luxe affair poolside or lounging above on terrace divans. You might even opt for a Bedu feast on carpets fireside in the sand. A mere 200km south of Abu Dhabi, this desert resort by Anantara is a world apart. "On our visit to Qasr al Sarab, we stood atop a distant dune talking to a fourth-generation falconer, while his fifth-generation son played nearby. Holding and witnessing the power of their magnificent birds was a definite high." – Lisa Dunford
5. Cradle Mountain Lodge, Tasmania, Australia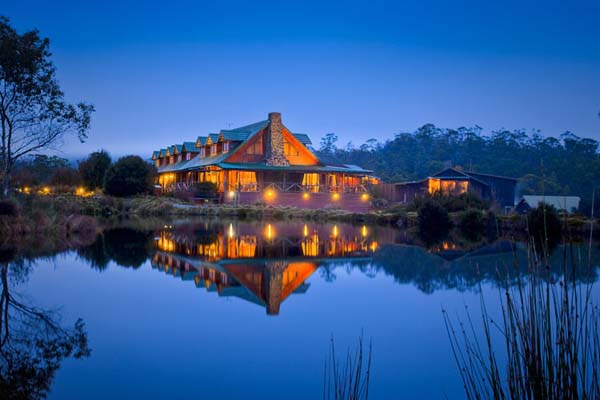 A stay at Peppers Cradle Mountain Lodge plunges you into the heart of Tasmania's wilderness, with luxury that feels as organic as your surrounds. The cabins are nestled privately in the bushland, with wallabies bounding past the windows and wombats shuffling amid the trees. Locally sourced game, wine, cheeses and honey permeate the restaurant's menu, one of Tasmania's best. The view from the spa is a dense thicket of King Billy pine trees. Your immersion into Tasmania's wilds would be total, if you weren't being so thoroughly spoiled by the five-star service. Travellers can choose from couples' or family cabins, right up to suites with private outdoor tubs and fuel-efficient fireplaces. But you didn't come to Cradle Mountain just to relax:
walking trails spiral directly out from the lodge, right on the border of Cradle Mountain-Lake St. Clair National Park. Serene Dove Lake is a few minutes' drive away, along with the thrusting silhouette of Cradle Mountain itself. And for a closer look at Tasmania's most famous native animal, the lodge is moments from the Devils Cradle sanctuary  "Wildlife is best viewed from an outdoor hot tub. Don't get me wrong, I was happy to be exhausted by long hikes in the national park and even I enjoyed Cradle Mountain's dramatic weather. But the thrill of spotting echidnas and pademelons from the silky waters of a private hot tub is hard to forget." – Anita Isalska
6. Free Spirit Spheres, British Columbia, Canada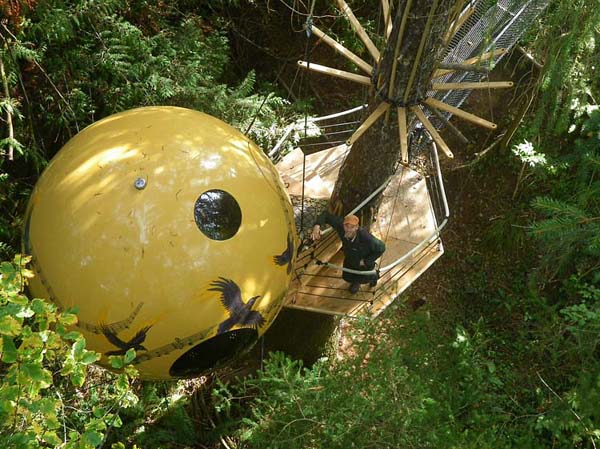 Suspended in the trees on sturdy guide ropes, Vancouver Island's Free Spirit Spheres  look like giant eyeballs peering deep into the British Columbia woodlands. Step inside and the handmade orbs – accessed via spiral rope staircases or slender steel bridges – are lined like comfy boat cabins with built-in beds and cabinets. But while they also house handy conveniences like kettles and iPod speakers, the real point of these gently-swaying, bauble-like treehouses – with individual names like Eryn and Melody – is to encourage you to commune with the region's curious birds and chattering squirrels and immerse yourself in the natural world.
It's not like roughing it in a walk-in bird's nest, though. The tranquil site's immaculate ground level amenities include showers, sauna and a full kitchen – complete with a barbecue on a covered porch – while leaf-dappled trails wind around the area's duck-studded pond and lure you into the surrounding forest. "A sigh-triggering escape from the city, my early morning wake-up call at the Free Spirit Spheres was a symphony of birdsong playing all around me – plus a mohawk-topped Steller's Jay eyeing me on the other side of my porthole window." – John Lee
7. Taşkonak Hotel, Göreme, Cappadocia, Turkey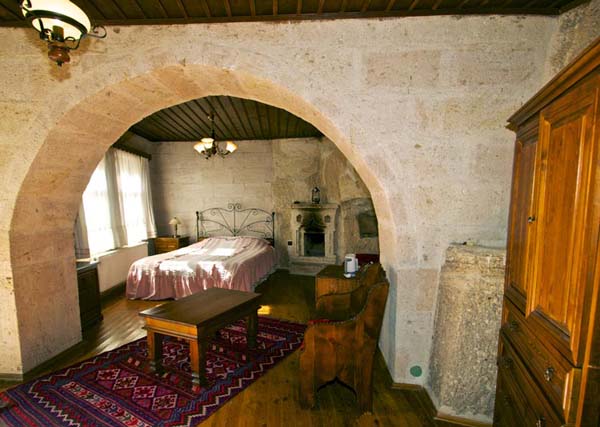 For travellers who want to experience a modern twist on Cappadocia's troglodyte living, Göreme village's cave-hotels are just the ticket. Taşkonak Hotel is cut into the hillside itself, utilising the traditional village architecture to turn what was once a family home into an intimate, yet well-priced, hideaway. This small and friendly hotel has oodles of rustic charm. The 10 rooms (five of them cave-suites) are bursting with Cappadocia's cosy village-aesthetic.
Stay in one of the roomy cave-suites and you get the full troglodyte experience. There's a breakfast full of homemade goodies and freshly baked treats, and you can eat it on a terrace that has serious wow-factor views – overlooking the village and rippling moonscape of rock valleys beyond that have stamped this region with a Unesco World Heritage listing. What makes this place special though is its home-from-home ambiance with management that goes out of their way to help. "Göreme has dozens of beautiful cave-hotels but Taşkonak manages to dish up the cave-suites and stupendous views Cappadocia is famous for without breaking your budget." – Jess Lee
8. Thonga Beach Lodge, iSimangaliso Wetland Park, South Africa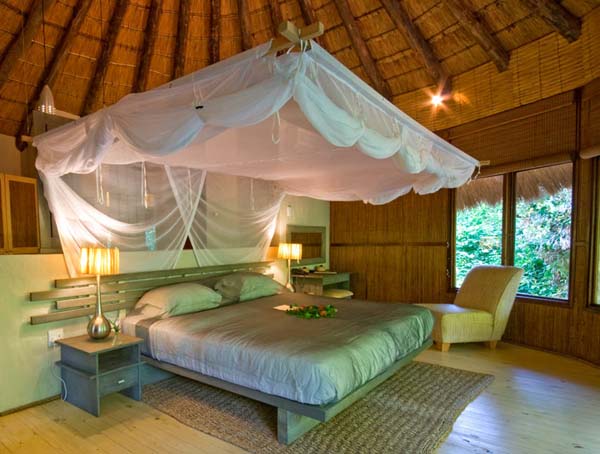 It ticks all the right boxes. Luxury resort by the beach. Environmentally friendly. Remote. And it's one of few such lodges within the extraordinary 328,000 hectare iSimangaliso Wetland Park, a Unesco World Heritage site. Its spacious huts are scattered through dune forest, some with spectacular views of the Indian Ocean (it's a given the interiors feature tasteful New York-meets-African decor and all the trimmings). Whales frequently pass by, and Loggerhead and Leatherback turtles nest on the nearby beaches. Action addicts can canoe on Lake Sibaya or take the plunge on deep sea dives, while those wanting relaxation can opt for the wide, white beach and spa treatments.
Foodies, meanwhile, get their fill from the lodge's kitchen – think fresh seafood and salads. "For me, the 'not-to-be-missed' activity was the walking tour with a local guide, Eugene, the nearest thing to an African David Attenborough. He ticked off everything from the local mahogany tree to dung beetles. After being warned of the shy but extremely dangerous vine snake, I was thrilled to identify one later in the day." – Kate Armstrong
9. Saugerties Lighthouse, New York State, USA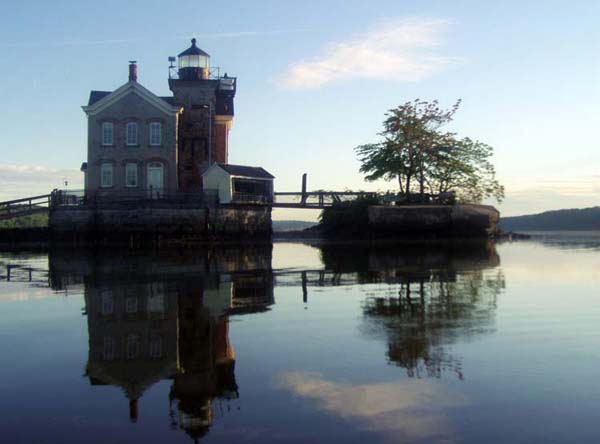 Saugerties Lighthouse is an historic 1869 landmark that makes a wonderful base for exploring the scenic Hudson Valley. Located 100 miles north of New York City, the red brick building has played a pivotal role in safely guiding steamboats, barges and other vessels safely along the Hudson River over the years. More recently (in the mid 1990s), the lighthouse was transformed into a two-room B&B, providing safe haven of a different sort. Its rooms have quaint touches of Americana – antique furnishings, quilt bedspreads – and ample natural light, with windows overlooking the river (the West Room also has views of the Catskill mountains).
There's no air-conditioning, but with cool river breezes it's never needed. To reach the lighthouse, guests stroll along a half-mile long boardwalk through lush wetlands, which fills with birdsong at dawn and dusk. "Anyone can visit the lighthouse, but to experience the raw beauty of this place, I highly recommend staying the night. Watching the play of colours on the river at twilight and hearing the surrounding wetlands spring to life in the early morning hours – you can almost forget what century you're living in." – Regis St. Louis
10. The Gibbon Experience Treehouse Bokeo Reserve, Laos
Imagine waking to the sonorous call of the endangered black-crested gibbon, stretching in your bed a hundred feet up in the triple canopy, and nursing a coffee on your balcony as you watch the dawn mist crowd in over the jungle valley below. The tree houses erected by conservation group Animo are a thing of architectural wonder, straddling the giant trunks of strangler fig trees.
But more extraordinary still is that to reach these vertiginous eyries you'll have to trek through the fecund realm of the tiger, then catch a series of exhilarating zip lines strung across the forest canopy, before flying into your night's accommodation. Your dinner has wings too, delivered fresh from a nearby campfire by an ex-poacher turned guide. Music is the ambient sound of cicadas, lights that of fireflies. Entertainment? Your fellow travellers, a candle and a shared story. -lonelyplanet