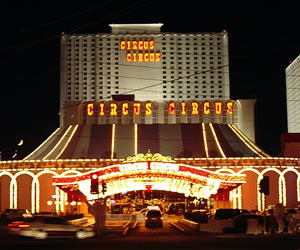 Circus Circus Las Vegas is the World's largest hotel and casino located in Winchester, Nevada.  The history of Circus Circus Las Vegas dates back to October 18, 1968 and is now currently owned and operated by MGM Resorts International. Circus Circus Las Vegas was originally a casino but the owner, Jay Sarno faced difficulties in bringing the casino up to the mark and attracting people so, he had to take a loan and build a hotel with it.
Circus Circus Las Vegas now also features carnival acts, carnival type games on the midway and recreational vehicle parks operated by Kamp grounds of America. Circus Circus Las Vegas hotel and casino has a giant circus tent shaped structure and is famous for its midways that were also featured in a couple of movies including James Bond film, "Diamonds are forever", "Baby Geniuses", "Austin Powers" and " Honey, I blew up the kids" etc.
• Circus Circus Midway Carnival and Circus
Circus Circus carnival midway is all about having fun. It is specially designed for kids and adults of all ages. So, if you are looking forward to games and surprises then Circus Circus midway carnival is a must attend event. One gets a chance to experience World's largest permanent circus at Circus Circus Las Vegas. Awe and wonders will be within your reach as you will see the actors flying in the air with the greatest of ease. The famous circus acts includes Veronika, Flying Angels, Duo Joys, circus clowns and Alexandra.
• Circus Circus Hotel
Circus Circus Las Vegas hotel consists of 3770 rooms that ensure all the comfort and convenience one expects from a hotel in Las Vegas. The rooms are beautifully furnished and are categorized accordingly. The different types of rooms found at Circus Circus Las Vegas include Casino Tower rooms, West Tower rooms, Skyrise Tower rooms and Manor motor lodge.
• Adventuredome Theme Park
Adventuredome at Circus Circus Las Vegas is America's largest indoor theme and it spreads on five and a half acre piece of land. It is a source of ultimate entertainment for kids and hence, proves that one can go crazy in Vegas without the wild night life scene. The adventuredome theme park at Circus Circus Las Vegas features 25 rides with natural lightning, high ceilings and canyon fixtures throughout the property. Adventuredome theme park is not just about rides, it also offers a number of prizes for the contestants. So, you always see the kids holding a large teddy bear or angry bird dolls while leaving the theme park.
• Circus Circus Casino
Circus Circus Las Vegas casino offers 100,000 square feet of gaming open 24/7 just for amusement. It consists of four Las Vegas casinos that make your head spin. The casinos include hot shots, tempting table games, poker room and techno-sawy race and sports book.