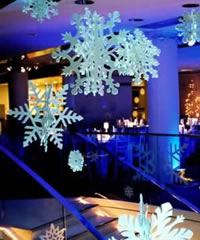 Snow, mistletoe, roast turkey and eggnog! Christmas is upon us. If you plan to be hosting a party this holiday season, there are a few party tips that will make this festive occasion more enjoyable for all your guests.
Plan your Christmas party well in advance. Make the menu and decide on Christmas themes and decorations for the party beforehand. This will give you time to get everything in place before the big night.
Location, location, location. Decide upon this early on. Whether you are hosting the party at your home or another location, the venue is a key factor in how the party accommodates the guests. Too small a space will make for an uneasy party. Too large a space could make the Christmas party seem empty. So pick wisely
Send invitations a week ahead of time. Make sure you include an RSVP request by a specified date. You will have a clearer idea of how many guests will be attending the Christmas party. Alternatively, you could make personal calls instead.
Decorate the Christmas Tree and surroundings. Who doesn't love decorating the Christmas tree? My party tips for the perfect tree include using gold matt balls and strings of pearls and gold pearls. Add some snow spray to the ends of the tree, sprinkle snowflakes and add a gold star up top! You can apply the same colour themes everywhere else too in the form of candles, flowers and runners on the tables.
Keep the party menu simple and, if a party theme is being used, remember to match the food to the theme. For instance, if your theme is Winter Wonderland, serve food that is pale; shades of white or blue are ideal. Examples of such food are mini egg florentines, herb cheese log, turkey meatballs with mint yoghurt, tempura prawns, prawn cocktail, roasted stuffed onions and frosted mini Christmas cakes
Think about finger food style snacks and homemade desserts. Make up cheese trays, with a selection of at least four different cheeses and crackers. For a non themed party menu, appetizers can include ,garlic bread, smoked salmon tartlets, breaded shrimp and seared scallops with lime.  Party desserts can include chocolate tortes, mince pies, profiteroles and Christmas pudding.
Be sure to provide a wide selection of beverages. Not all guests will want alcoholic beverages at the party but for those who do, try champagne, mulled wine, sangria or buttered rum and eggnog. For those who don't, I suggest, juices, soft drinks and coffee.
Festive Music. What better time to get the Christmas melodies rocking through the party than at this time of year? There are so many fantastic Christmas party songs to choose from. You'll be spoilt for choice. Make a playlist on your ipod and let the good times roll!
These party tips should set the ball rolling and help you in hosting the best Christmas party for you, your family and friends. Remember to have fun, be creative and watch out for mistletoe above your head and those reighndeers flying above your house !