Screwpop makes a series of small tools that you can hook onto a backpack, purse, or key chain and  always have it on you. Let's run through all of their tools and what each one does:
[contentblock id=1 img=adsense.png]
Screwpop: This is a small magnetic screwdriver that can switch to a flat head or a Phillips in no time at all. They also added a bottle opener to it so you can get to happy hour that much faster.
Utility Knife: This is an ultra slim utility knife that can be used to cut cardboard, rope, or those annoying plastic ties pin toys in a package (and are nearly indestructible).
Cigar Punch: Now that we're going to become Cuba's best friend, you will want a cigar punch at any given time to smoke those amazing Cuban cigars. It also has the ability to open canned bottles.
[contentblock id=2 img=adsense.png]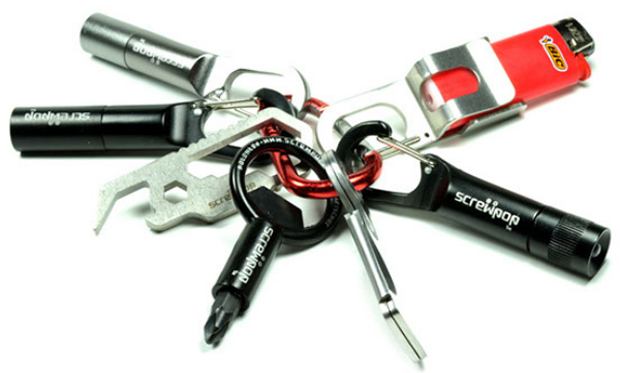 Lighter Holder: If you find yourself constantly buying lighters to replace the one you lost or the one that your buddy stole. The clip itself can open a bottle top too.
Light: This is a small tube light that should be much brighter and easier to use than the stupid flash on your camera phone.
Travel Stash: This Screwtop tool is a small hallowed out tube that screws shut and can store cash secretly (or daily pills, etc.).
Wrench: Not only is it a wrench for multiple sizes but there are a few other features available  and it can of course open bottles!
[contentblock id=3 img=gcb.png]
Cigar Cutter: Get the cigar punch, get the cigar cutter, kickback and enjoy that cigar!
Check out Screwpop and pick which multi-tool you want. We got to try the Lighter Tool and it had a solid make to it and held a mini lighter perfectly. The tools are very affordable and could really come in handy. Click here for image source and where to buy Screwpop tools.