Allowing personal thought and contempt to get the best of a person can be chalked up to another example of allowing personal thought and contempt to get the best of a person. Parents have identified a Colleyville (Texas) Middle School teacher as Lisa Grimes, who was caught on video expressing her opinions on the COVID vaccine and conservative Christians. She then went completely off the rails by screaming, "They need to die."
Three teachers can be seen and overheard discussing in the video, which was provided by an unidentified school family. While some parts of the video are inaudible, Grimes can definitely be heard expressing her personal views on the "political system," COVID vaccinations, and "conservative Christian crap." She was later fired from the Grapevine-Colleyville Independent School District.
In some of the verbal musings the Colleyville teacher was caught airing to her colleagues, she said, "We have a political system that will not allow us to [inaudible talk] so we are vaccinating like the flu." Grimes goes on to compare taking the flu vaccine if you want it to getting the COVID vaccine if you don't want it. Her soapbox then takes her to say that if we wanted to eradicate COVID, we needed rapid vaccines. She tells her colleagues that if it had been an urgent issue, "it'd [COVID] would already be gone."
The middle school teacher then begins to express her disappointment, which was caught on camera. "That's what's frustrating. The rest of my life is impacted because of politics? Because of conservative Christian crap?" Here, Grimes moves in closer to her two colleagues to drop her bombshell. "I'm telling you, those conservative Christians, they need to die, they need to get covid and die." You can tell one of the teachers is uncomfortable with the direction of the conversation as she jumps in by saying, "I'm going to see my boyfriend." You can see the entire exchange below.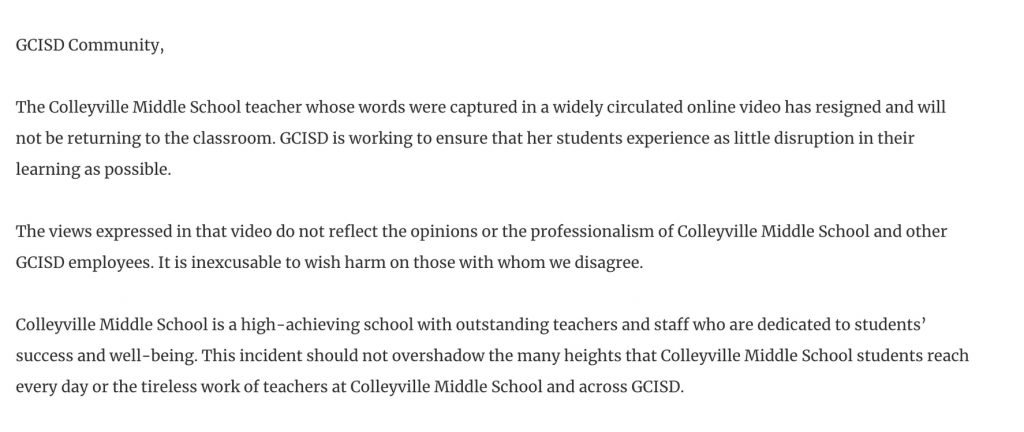 However, the damage was done, and the video rapidly went viral. A teacher was caught on camera wishing death on conservative Christians, and it went viral like a thud. The response on Twitter was quick and brutal.
The Grapevine-Colleyville Independent School District issued a statement after the video went viral, stating that Grimes, the teacher who was caught dropping her verbal bombshells, had been placed on administrative leave. "This afternoon, GCISD learned about an online video of a Colleyville Middle School teacher talking to two colleagues in a high-traffic area on campus," the statement said via WFAA News. "The sentiments expressed in the video do not reflect the views of GCISD or Colleyville Middle School."
The school system immediately provided an update the next day, reporting that Grimes had resigned from her position as a teacher at Colleyville Middle School. The teacher who was arrested is no longer teaching. The following is their statement regarding her resignation.
This isn't the first time the Grapevine-Colleyville Independent School District has been involved in a controversial situation. James Whitfield, the first black principal at Colleyville Heritage High School, came under fire last November after he was accused of promoting and teaching Critical Race Theory. Whitfield was hired in 2020 and lasted just over a year until accusations got the best of him. After they struck an agreement, he left the school system.
The teacher who was caught on camera expressing her darkest sentiments about conservative Christians has yet to respond. It will certainly be hard for her to retract those comments. While Grimes was severely criticized for her remarks, not everyone was so severe. After the incendiary video was posted, one parent spoke up in her defense, saying that it was unfair to hold Grimes responsible for something she likely thought she was saying in confidence.
Another parent said, via CBS DFW, "Did anyone ever stop to think about why she said what she said? If you listen for a moment, I'll tell you what I hear. I hear frustration. I hear exhaustion. And she isn't alone. All of our teachers have been pushed past the breaking point."
Now her main concern is for her students. In a statement, the Grapevine-Colleyville Independent School District stated that all efforts will be taken to ensure the lowest amount of disruption possible. Let's hope that's exactly what was going on.