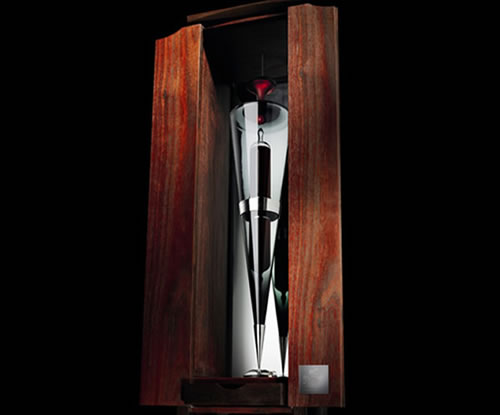 Australia's fine wine maker Penfolds has announced the most expensive wine that will be directly sold from a winery in the world. It is also the only wine that has been completely encased in glass without any corks and screw caps. Tagged at $168,000, each Ampoule will contain Penfolds 2004 Block 42 which is a rare, single vineyard wine, produced from the oldest continuously producing Cabernet Sauvignon vines in the world.
Many expert hands are behind the unique glass objet d'art suspended within a wooden Jarrah cabinet that holds all the red wine. Also one needs to plan well in advance before intending to raise a toast with this exclusive and expensive wine. Penfolds will send a senior member of the Penfolds Winemaking team to the buyer's location with a specially designed, tungsten-tipped, sterling silver tool to open the Ampoule. After the expert opening event, the wine will be prepared using a beautifully crafted sterling silver tastevin.

The global launch of the limited edition Ampoule took place in Moscow, Russia with Penfolds Chief Winemaker, Peter Gag. Of the dozen most expensive wines, one will be reserved for the brand's museum, second will be auctioned for charity and the remaining ten will be offered for sale – two in North America, two in Europe, three in Asia, and three in Australia and New Zealand.