Pineapple also known as 'Anana' or 'excellent fruit' is unique in the western hemisphere. The fruit serves as a food and was also a symbol of royal privilege. Pineapple has also been a symbol of hospitality, friendship and many more in different cultures, and also has been used in some signature motifs around the world.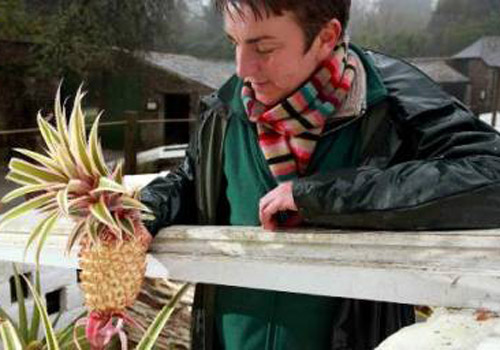 Once an exotic fruit, they can hardly be termed as exotic these days, thanks to the globalization and improvement in storage, production as well as crop improvement. Though Pineapple can be bought for a decent price, but the cost of the most expensive pineapple can just make your jaw drop. The cost of a single piece of this pineapple can be around $16,000 USD making it one of the most expensive Pineapple across the globe.
What makes this pineapple so expensive? This most expensive pineapple is grown by a group of gardeners in Britain, far away from its homeland of tropical climates. But the location does not make it expensive, but what makes it expensive is the use of Victorian growing techniques, that needs a lot of time, materials and effort to reap the crops and can be translated into such high cost.
These pineapples are grown in 'pineapple pits' which are traditionally built and maintained like the Victorian ages. The pits resemble a greenhouse that is sunken and flanked by a pair of trenches. The trenches are filled with rotting horse manure and urine regularly.
The decomposition of horse manure and excrements generate heat, which is channeled through the walls of the pit to provide warmth to the growing fruits. Though it might sound less than appealing, but the fruits never come in contact with the excrements.
Measuring just around six inches, the pineapple fetches a net price of 16,000 USD and becomes the most expensive fruit in the world, other than being the most expensive pineapple in the world.
The fruits are cultivated in Cronwall, at the Lost gardens of Heligan, which is on the South coast of Mevagissey village. The pineapple pit was put into disuse at the First World War, and was reinvented and renovated in the early 1990s. It is almost 40 feet long, and the trenches are about 4 feet in depth.
The 'Hotbed' system of cultivating pineapple can be traced back to the time of Charles II, and using this method the gardeners at Heligan's Pit have started producing some of the most delicious pineapple flavors.
They use almost 30 tons of straw and horse manure procured from the nearby stable at Falmouth. The prized fruit was also presented to the Queen to mark her 50th anniversary on the throne. The Heligan's gardeners look forward to add more crops to their produce over a period of time. Possibly they are going to make pineapple again a symbol of luxury and taste. –Born rich